Originally published in The Numismatist, October 2016
With some dedicated digging, a paper-money collector determines the origin of a rare scrip note.
In the 1860s, during the American Civil War, citizens hoarded coins, thereby creating a need for paper versions of small denominations. Employers and merchants issued scrip for use in paying workers and for making change.
As a collector of obsolete bank notes, particularly from Nebraska and the surrounding area, I came across an interesting specimen, one that led to a hunt through historical records and the chance to right a wrong. The uniface 10-cent note was dated November 10 or 11, 1862, and bore the name of its town of origin— De Soto—but not the state. I assumed it was issued in Nebraska, as it was cataloged as such by a major numismatic auction house. That conclusion appears to be incorrect.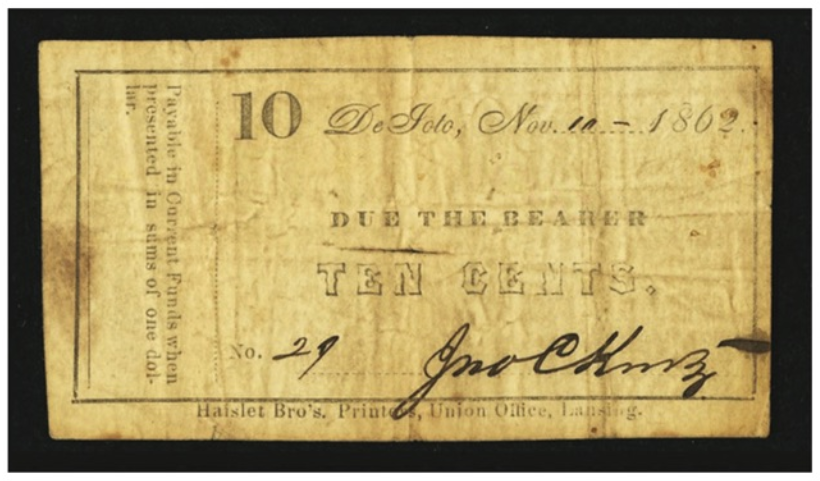 This De Soto 10-Cent Note, dated November 11, 1862, was incorrectly attributed to Nebraska and signer "Jon C. King." ( The actual signer was Jno [Jonathon] C. Kurtz. ) Image courtesy Heritage Auctions. Approximate Size: 48 x 87mm
Searching References
In my quest for information about the issue, I consulted a variety of references, searching for "De Soto" and the name of the printing firm, which was identified on the note as "Haislet Bro's, Printers, Union Office, Lansing." I began with a 1968 U.S. Postal Service directory, which listed 10 towns named Lansing and 8 named DeSoto or De Soto. Three states—Illinois, Iowa and Kansas—have both towns within their borders.
In Dean G. Oakes' 1982 reference Iowa Obsolete Notes and Scrip, I found no notes listed for Lansing. Likewise, under the heading "Engravers, Lithographers and Printers Imprints," there was no mention of "Haislet Bro's."
In Illinois, Lansing is a southeast suburb of Chicago, on the state line between Illinois and Indiana. DeSoto is in Jackson County, near the southern tip of Illinois. The 313-mile distance between them made the issuer/printer connection improbable, but not impossible.
Lansing, Iowa, is in the far northeast part of the state, while De Soto lies 20 miles west of Des Moines. Again, the distance—260 miles—made a bank-note collaboration between the two cities unlikely.
Lansing, Kansas, is 5 miles south of Leavenworth. De Soto is south of Lansing, on the western edge of Kansas City. At 25 miles apart, these were the closest yet, and I hoped I was onto something.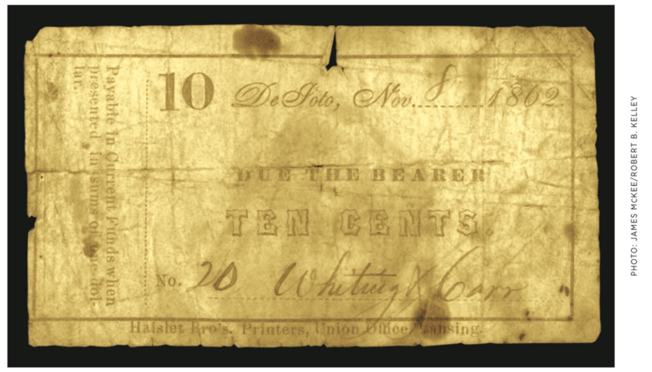 A second specimen, dated November 8, 1862, is signed by Whiting & Carr. Approximate Size: 48 x 87mm
The Haislet Brothers
Before looking deeper into the Kansas connection, I took some time to research the printing firm. In Security Printers, published by the American Society of Check Collectors, I found no entry for Haislet Bro's. A search for "Haislet" on Ancestry.com revealed George W. Haislet and his brothers Samuel and Frank, all of whom were newspapermen in northeastern Iowa.
George Haislet was born in 1835 in Michigan and died on March 6,1881, in Decorah, Iowa, where he was editor and proprietor of the Decorah Radical. He also launched Cresco, Iowa's first newspaper.
On the Trail
This bit of information about George Haislet prompted me to take another look at Lansing, Iowa. East of the town, across the Mississippi River, is Wisconsin, which was on my list of states that had a town of De Soto, a little less than 6 miles away! This moment of discovery was truly serendipitous.
The De Soto note was issued in the fall of 1862, when George Haislet started up The Lancing Weekly Union in Iowa, thereby explaining the printer's identification on the note, "Union Office." It was not unusual for newspapers to take odd printing jobs to generate additional income, which seems to be true in this case.
The Town of De Soto, Wisconsin, sits east of Lansing, Iowa, across the Mississippi River. Today, the Black Hawk bridge crosses the mighty river, linking Iowa State Highway 82 and Highway 9 and Wisconsin State Highway 35. In the 1860s, a Lansing/De Soto ferry operated there. Historical records indicate that, in 1884, it was owned by Charles E. Reiter.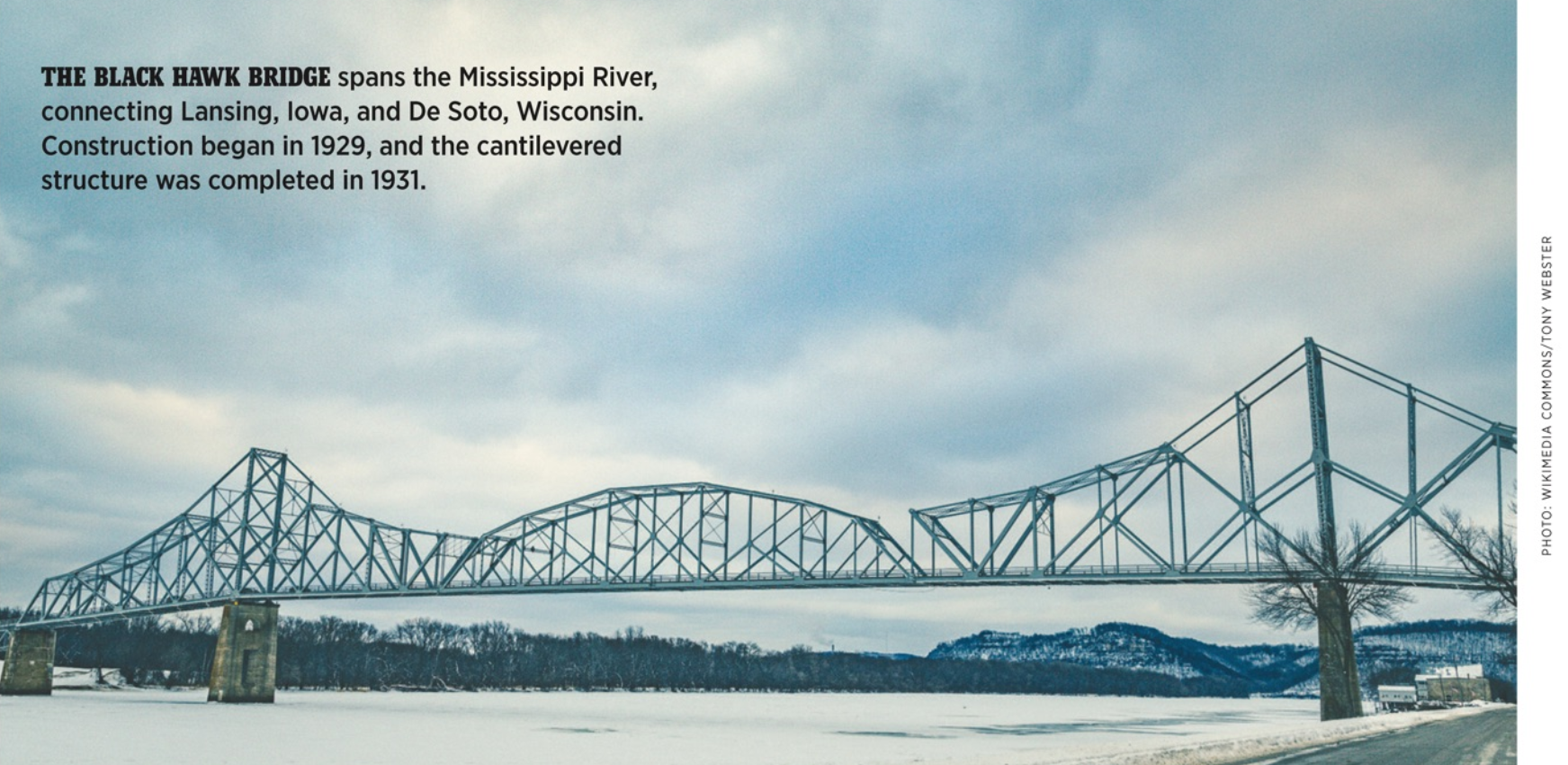 According to History of Vernon County Wisconsin, published in 1884, De Soto was laid out in 1854. The post office opened in 1855; the second postmaster was Dr. Osgood, assisted by his deputy J.C. Kurtz (Jonathon, or "Jno" for short), the signer of the scrip.
A second 10-cent De Soto note, dated November 8, 1862, is illustrated in my 1978 book, A History of Nebraska Banking and Paper Money. The specimen bears the names of Whiting & Carr. C.B. Whiting was the third postmaster of De Soto, and Fred Carr was deputy postmaster.
The Black Haw Bridge spans the Mississippi River, connecting Lansing, Iowa, and De Soto, Wisconsin. Construction began in 1929, and the cantilevered structure was completed in 1931. Whiting & Carr also owned a steam mill, which was destroyed by fire in July 1865. The photograph was accompanied by the notation "Attribution to Nebraska is not certain on this item." Both this and the previous example identify the producer as "Haislet Bro's, Printers, Union Office, Lansing."
Along the left side of both notes is the statement "Payable in Current Funds When Presented in Sums of One Dollar." This requirement makes the survival of these two examples of merchant scrip—presently the only specimens known to exist—even more miraculous.
So, it appears the notes are now correctly attributed—they were printed in Iowa for use in Wisconsin. But more questions remain to be answered. We know little about the printer, Haislet Bro's. How many merchants did the company supply? How were the notes printed? Were they produced singly or as multiple images on a sheet? Are additional examples out there, waiting to be found? Perhaps other merchant scrip aficionados can offer some insight.
SOURCES
Alexander, W.E. History of Winneshiek and Allamakee Counties, Iowa. Sioux City, IA: Western Publishing Co., 1882.
American Society of Check Collectors. Security Printers, 3rd edition. N.p.: American Society of Check Collectors, 1991. (ANA Library Catalog No. VM55.A4 1991)
"De Soto Village." History of Crawford and Richland Counties, Wisconsin. Springfield, IL: Union Publishing Company, 1881. Transcribed for "Genealogy Trails" by Tammy Clark.
Oakes, Dean G. Iowa Obsolete Notes and Scrip. N.p.: Society of Paper Money Collectors, Inc., 1982. (US80.I603)
Krause, Chester L. Wisconsin Obsolete Bank Notes and Scrip. Iola, WI: Krause Publications, 1984. (US80.W5K7 c.1)
Walton, Gerome. A History of Nebraska Banking and Paper Money. Lincoln, NE: Centennial, 1978. (US80.N2W3)
desotowi.com
iagenweb.org
iowaoldpress.com
town-of-wheatland.com
About the American Numismatic Association
The American Numismatic Association is a nonprofit organization dedicated to educating and encouraging people to study and collect coins and related items. The Association serves the academic community, collectors and the general public with an interest in numismatics.
The ANA helps all people discover and explore the world of money through its vast array of educational programs including its museum, library, publications, conventions and numismatic seminars.