Collecting Friends: The First Coin Book I Loved
The First Coin Book I Loved

Steve: The first coin book I read was in my elementary school library, a 1970s edition of A Guide to United States Coins, known as the loved "Red Book" today which just celebrated its 75th edition. It was a decade or so old by the time I found it, so prices were outdated, but the pictures introduced me to coins that were beyond what I had seen in the pocket change my grandmother had kept.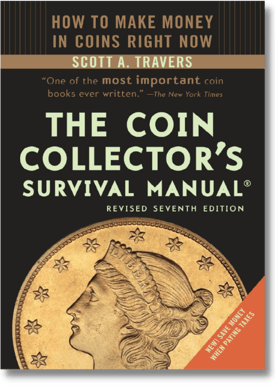 Moving up a step in the library hierarchy in Michigan was Livonia's public library which had a book that addressed the rare coin market: past American Numismatic Association Vice President Scott Travers' book The Coin Collector's Survival Manual, first published in 1984. I must have checked out the 1988 second edition 10 times to absorb his inside view of the rare coin market as third-party grading had just entered the mainstream of collecting. A revised seventh edition was released in 2010 and the first editions are a time capsule of what the coin industry was like before the Internet, as Professional Coin Grading Service and Numismatic Guaranty Co. joined ANACS in helping standardize grading.

In writing this I realized that I didn't have a copy of that 1988 second edition in my library so purchased one on eBay for $2 (not including shipping) and there's several available for loan from the ANA's library. Travers wrote in the preface to the revised seventh edition "Profiting from rare coins takes knowledge, shrewdness, and a high degree of healthy skepticism."
The first edition pre-dated PCGS and NGC while the second discussed their emergence and impact on the market. The 2010 edition identified grading-related abuses as dealers learned how to adapt to the subjective nature of third-party grading, and comparing the 1984 edition which was published at a time when dealers and auctioneers were left to grade their own coins, to the 2010 edition confirms the benefits of third-party grading and documents the shift. Travers writes "Expert grading backed by a guarantee restored a high degree of confidence and significantly reduced the threat that had been posed by rampant and flagrant overgrading at the time of this book's first edition." In sharing the good (and not so good) in the rare coin market, Travers' book was the first that introduced me to a world of coins beyond date and Mint mark collecting.

Dennis, what was the first coin book you remember loving?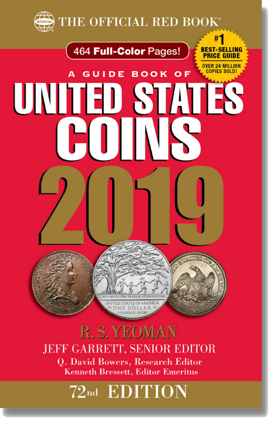 Dennis: That's like asking a father which kid is his favorite! But I can easily point to two books—one that sparked my love of numismatics, and one that pushed my interest in new directions. The first was the 30th edition of the Red Book, published in 1976 with a 1977 cover date. It was a few years old when my older brother, a collector himself, showed it to me along with a 1937 Buffalo nickel. I was fascinated by both the book and the coin. He let me borrow the Red Book for a while, and I read every page!
The second book was published in 1982: the ninth edition of Ken Bressett's Guide Book of English Coins—another one that I read cover to cover, many times. This book opened my eyes to the world of British coins, and from there other world coins, tokens, and medals. "The rest is history" forty years later.

Be on the lookout for another installment of Collecting Friends next month! In the meantime, learn how ANA members can borrow books from the ANA's Dwight N. Manley Numismatic Library, the world's largest numismatic lending library.
About the Collecting Friends Blog
Hello! And welcome to the ANA's blog series, "Collecting Friends."

We decided to approach this much like a conversation between friends. One of us starts with a topic, then the other responds. Simple as that. Along those lines, we'll keep the tone conversational as much as possible.

We both write about coins professionally, and will keep our relative style guides in our writing. For Dennis, Publisher at Whitman Publishing, that means capitalizing "Proof" and italicizing Red Book and never saying anything bad about Ken Bressett, who's awesome anyway.

For Steve, who's written with Coin World for 15 years, it means Winged Liberty Head dime instead of "Mercury" dime, and similar nuances and oddities. And, it means writing A Guide Book of United States Coins (better known as the "Red Book").

Both of us started collecting when we were little, introduced to coins by a chance encounter with an old coin that sparked our curiosity. One of Steve's interests is coin valuation, and he gravitates towards the intersection of art and coins. Dennis enjoys medals and world coins, and studying modern U.S. coins in the context of older series, what came before.

We met in 2012 at the American Numismatic Association World's Fair of Money in Philadelphia at an event hosted by the Austrian Mint where there was both a Ben Franklin and a Betsy Ross impersonator. We've become great friends in the past decade. We even were appointed together to sit on the Citizens Coinage Advisory Committee starting in 2016, but Steve resigned soon after he was appointed to accept a full-time job at the Treasury Department while Dennis was re-appointed in 2020.

We taught a course together on numismatic publishing and writing a few years ago at the Summer Seminar, and while life has gotten in the way of us teaching another class, we jumped at our friend Caleb's suggestion that we write a column. We hope you enjoy it!
About the American Numismatic Association
The American Numismatic Association is a nonprofit organization dedicated to educating and encouraging people to study and collect coins and related items. The Association serves collectors, the general public, and academic communities with an interest in numismatics.
The ANA helps all people discover and explore the world of money through its vast array of educational programs including its museum, library, publications, conventions and numismatic seminars.