Collecting Friends: When Friends and Family ATTACK!
When Friends and Family ATTACK!

Dennis: One of the great things about our hobby community is the friendship that develops over time. When you're with other collectors, you speak the same language, you know the same stories, you have the same background—even if you were born miles apart, generations apart, or in different cultures.
When you go to a coin show, or attend a club meeting for the first time, it's easy to make new friends. Just ask the question, "What do you collect?" Boom! An instant ice-breaker that immediately launches an interesting conversation, and an easy way to get to know somebody!

If your new friend has been collecting longer than you, you have an opportunity to absorb knowledge. If you've been collecting longer, it's a chance to share and teach. But you'll both be learning.

On the other side of the coin are non-collector friends and family who just don't "get it." Hard as it is to imagine, some people are immune to the bite of the collecting bug. I remember when I was about fourteen and a friend's father, who learned about my hobby, asked with a laugh, "What do you do after school, go home and polish your coin collection?" The nerve! Never mind that you should never clean a coin with polish. Of course I didn't clean them—I constructed little boxes filled with cotton to store and study them, like any reasonable coin-collecting kid would!

Another time, my father took me to a gun-and-tackle show with one of his work buddies. I lingered so long over a dealer's old briefcase full of world coins (25 cents each, five for a dollar) that Dad's coworker thought I was crazy. "That guy probably would have sold you all the coins, plus the briefcase, for twenty-five bucks," he groused. (He had a point, but he totally missed the treasure-hunt appeal of a good old-fashioned "junk box"!)

Steve, have you ever rolled your eyes at a non-collector's immunity to the coin bug?

Steve: UGH YES! Let's even go one step back: I'm always surprised that some people are immune to collecting in general or don't connect with physical objects. I've always loved "old things" and the stories behind them. When I was 14, or so, I didn't have any friends my age around me who were into collecting, so like you, it was a rather personal activity. Today most of my good friends have the "collecting bug" in some way or another!

I'm thankful to the American Numismatic Association for hosting events like its Summer Seminar where I could meet other younger coin collectors. I'm just as grateful for the patience of adults at my local coin clubs in Michigan including the Dearborn Coin Club and the Northwest Detroit Coin Club who helped focus the energies of an energetic 14-year old kid who was really, really into coins into activities like writing and exhibiting and helped me develop skills that I still use daily.


Be on the lookout for another installment of Collecting Friends next month! In the meantime, explore clubs in your area with the ANA's Online Club Directory.
About the Collecting Friends Blog
Hello! And welcome to the ANA's new blog series, "Collecting Friends."

We decided to approach this much like a conversation between friends. One of us starts with a topic, then the other responds. Simple as that. Along those lines, we'll keep the tone conversational as much as possible.

We both write about coins professionally, and will keep our relative style guides in our writing. For Dennis, Publisher at Whitman Publishing, that means capitalizing "Proof" and italicizing Red Book and never saying anything bad about Ken Bressett, who's awesome anyway.

For Steve, who's written with Coin World for 15 years, it means Winged Liberty Head dime instead of "Mercury" dime, and similar nuances and oddities. And, it means writing A Guide Book of United States Coins (better known as the "Red Book").

Both of us started collecting when we were little, introduced to coins by a chance encounter with an old coin that sparked our curiosity. One of Steve's interests is coin valuation, and he gravitates towards the intersection of art and coins. Dennis enjoys medals and world coins, and studying modern U.S. coins in the context of older series, what came before.

We met in 2012 at the American Numismatic Association World's Fair of Money in Philadelphia at an event hosted by the Austrian Mint where there was both a Ben Franklin and a Betsy Ross impersonator. We've become great friends in the past decade. We even were appointed together to sit on the Citizens Coinage Advisory Committee starting in 2016, but Steve resigned soon after he was appointed to accept a full-time job at the Treasury Department while Dennis was re-appointed in 2020.

We taught a course together on numismatic publishing and writing a few years ago at the Summer Seminar, and while life has gotten in the way of us teaching another class, we jumped at our friend Caleb's suggestion that we write a column. We hope you enjoy it!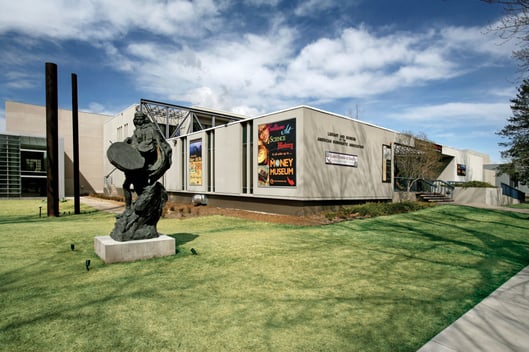 About the American Numismatic Association
The American Numismatic Association is a nonprofit organization dedicated to educating and encouraging people to study and collect coins and related items. The Association serves collectors, the general public, and academic communities with an interest in numismatics.
The ANA helps all people discover and explore the world of money through its vast array of educational programs including its museum, library, publications, conventions and numismatic seminars.