Collecting Friends: Low-Ball Collecting
Low-Ball Collecting

Steve: Today, collecting the "best of the worst" is quite a challenge for collectors, especially with Professional Coin Grading Service's "Low Ball" Registry Sets that reward collectors who can find Poor 1, and occasionally Fair 2 coins without problems. There are currently 2,670 "Low Ball" sets recorded in the PCGS Set Registry. Most coins that suffer the indignities of circulation have issues like severe rim dings, corrosion, scratches and other damage that keep them from being in non-qualified holders.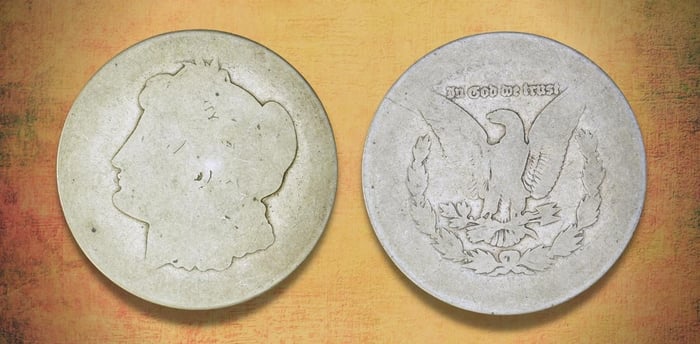 ▲ An example of a low-ball coin. An example of a low-ball coin. This 1878 Morgan Dollar can be properly dated by the observance of the 7 Tail Feathers, Parallel Arrows Reverse, aka the Reverse of 1878, or in the Red Book as the "2nd Reverse" for Morgan Dollars.
A look at one of these sets – named by the owner as the $IMPLYTHEBE$T LOW BALL IKE $ET shows that collecting low-grade coins can be serious business. He even has a 1971-S 40% silver Eisenhower dollar issues, which were produced for collectors and not intended to circulate, in a PCGS Fair 2 holder. The collector calls it a one in a million coin and on another 1971-D "Ike" dollar in a coveted PCGS Poor 1 holder he writes, "I made the ANACS PO01 and then crossed it over," meaning that it was originally in an ANACS holder and then was "crossed over" meaning that PCGS agreed with the grade and put it in one of its holders.
In 2017 Heritage sold a 1976-D Bicentennial Reverse Eisenhower dollar graded Poor 1 for $446.50 and the market has only increased in the five years since. It's an exciting way to enter the market, and provides a touch of dignity to lower-grade coins that are sometimes maligned and ignored. If you've ever had a pocket piece (a coin which you keep in your pocket over time) you can see how a coin wears down over time, and how long it takes for a coin to wear. It makes these "Low Ball" coins even more impressive.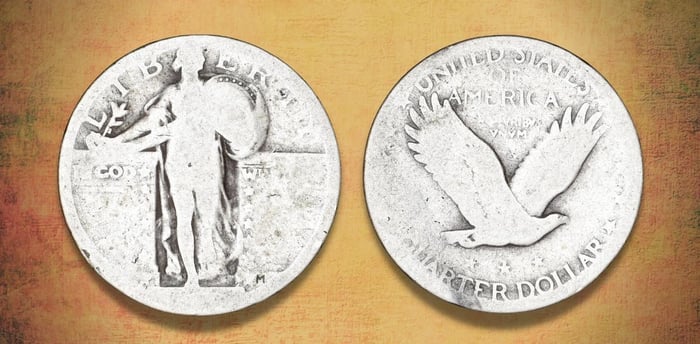 ▲ Dateless Standing Liberty Quarter

Dennis, have you had a pocket piece?

Dennis: When I was a kid I carried an 1877 British large penny. It's a common date, and the coin was already well worn when I got it—beautiful in its own smooth coppery way, and exotic with its youthful portrait of Queen Victoria. When I was in college I carried a 1965 Churchill crown, which is a nice hefty coin with the strangest design ever minted to honor a great world leader. The prime minister's portrait, even in the most boldly struck example of the coin, is so flat it's almost like a charcoal sketch on metal. I was curious to see if it would wear down to nothing. That was my pocket piece for several years. Whenever a situation called for a coin toss, I would flip the Churchill crown and instead of "Heads or tails?" I'd ask, "Winnie or Liz?" (God, I was a geek.)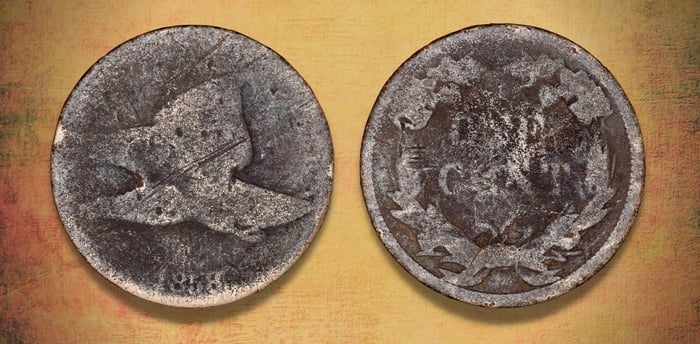 ▲ 1858 Flying Eagle Cent
Be on the lookout for another installment of Collecting Friends next month! In the meantime, check out the ANA's collection of fun and informative online grading resources.
About the Collecting Friends Blog
Hello! And welcome to the ANA's new blog series, "Collecting Friends."

We decided to approach this much like a conversation between friends. One of us starts with a topic, then the other responds. Simple as that. Along those lines, we'll keep the tone conversational as much as possible.

We both write about coins professionally, and will keep our relative style guides in our writing. For Dennis, Publisher at Whitman Publishing, that means capitalizing "Proof" and italicizing Red Book and never saying anything bad about Ken Bressett, who's awesome anyway.

For Steve, who's written with Coin World for 15 years, it means Winged Liberty Head dime instead of "Mercury" dime, and similar nuances and oddities. And, it means writing A Guide Book of United States Coins (better known as the "Red Book").

Both of us started collecting when we were little, introduced to coins by a chance encounter with an old coin that sparked our curiosity. One of Steve's interests is coin valuation, and he gravitates towards the intersection of art and coins. Dennis enjoys medals and world coins, and studying modern U.S. coins in the context of older series, what came before.

We met in 2012 at the American Numismatic Association World's Fair of Money in Philadelphia at an event hosted by the Austrian Mint where there was both a Ben Franklin and a Betsy Ross impersonator. We've become great friends in the past decade. We even were appointed together to sit on the Citizens Coinage Advisory Committee starting in 2016, but Steve resigned soon after he was appointed to accept a full-time job at the Treasury Department while Dennis was re-appointed in 2020.

We taught a course together on numismatic publishing and writing a few years ago at the Summer Seminar, and while life has gotten in the way of us teaching another class, we jumped at our friend Caleb's suggestion that we write a column. We hope you enjoy it!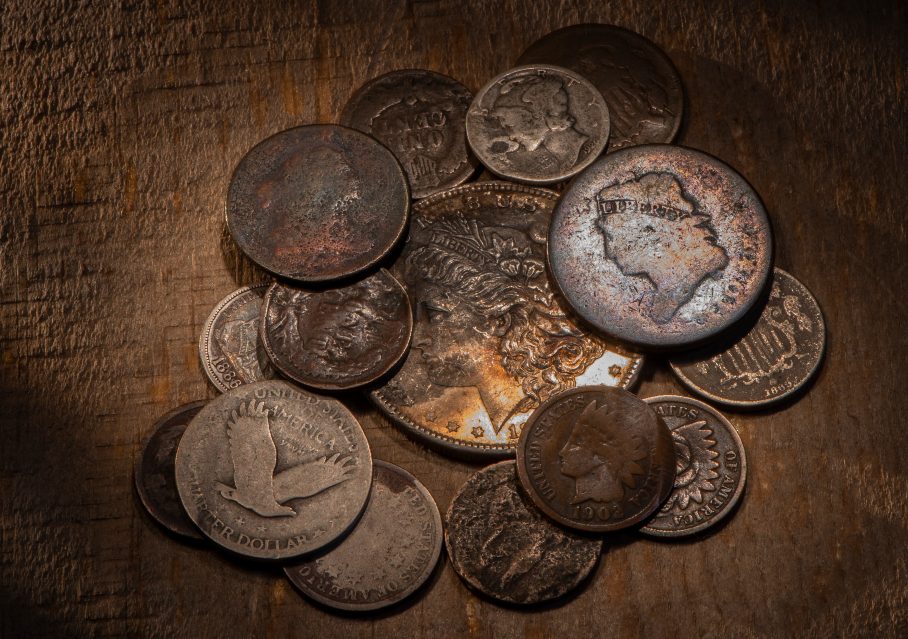 About the American Numismatic Association
The American Numismatic Association is a nonprofit organization dedicated to educating and encouraging people to study and collect coins and related items. The Association serves collectors, the general public, and academic communities with an interest in numismatics.
The ANA helps all people discover and explore the world of money through its vast array of educational programs including its museum, library, publications, conventions and numismatic seminars.