Originally published in The Numismatist, October 2015
Although credited with improving production methods, the U.S. Mint's chief coiner was more interested in augmenting his wealth.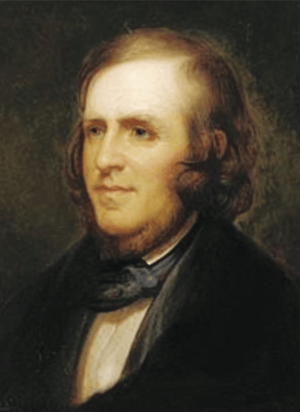 A controversial figure in both life and death, Franklin Peale was an employee and officer of the Philadelphia Mint from 1833 to 1854, rising to the position of chief coiner. He gained fame for his inventions and innovations, which he brought back to the mint after a two-year stay (1833-35) in Europe, where he studied coining techniques at various mints. However, Peale also was known for his corrupt and scandalous behavior, which ultimately led to his firing by U.S. President Franklin Pierce.
Early Years
Benjamin Franklin Peale was born on October 15, 1795, to renowned painter Charles Willson Peale and his second wife, Elizabeth. (Franklin was one of 16 children his father had with his three wives.) In addition to painting, the elder Peale managed a museum of curiosities located in Philosophical Hall in Philadelphia, which was home to the American Philosophical Society. Franklin was born in the family quarters of the museum.
Young Peale had little formal education, but briefly attended a school in Bucks County, as well as Germantown Academy and the University of Pennsylvania. As was the case in the Peale family, Franklin's education was mostly informal. The Peale children were given the opportunity to study what interested them or pursue areas in which they appeared to excel. Franklin built toys as a young boy and also surveyed his father's farm near Germantown. Unlike some of his artistic brothers (notably Titian Peale, an artist, naturalist, entomologist and photographer), Franklin was mechanically inclined.
At age 17, Peale began working at William Young's cotton factory, located on the Brandywine River. A talented and engaged employee, he learned to build machines and became skilled as a lathe operator (turner), metal caster (founder) and draftsman. Franklin's father tolerated his son's budding mechanical career, but nevertheless considered it folly. Local machinists who recognized Peale's considerable talent described him as an able craftsman who was highly capable with tools.
When he was 19, Peale returned to Germantown, where he had previously designed and supervised machinery installation at a cotton factory. He managed the facility for several years. Upon leaving the position, he moved back home to Philadelphia, where he built machinery at the firm of John & Coleman Sellers.
In 182 Peale left mechanical work behind to help his aging father run the family museum. When t h e elder Peale died in 1827, Franklin became the manager of the Philadelphia Museum (where he had been born 32 years earlier), and inherited stock in it, as did his many siblings.
Work at the Mint
The second Philadelphia Mint opened its doors in 1833 and used modern technology in all its departments …except those involving coinage production. The antiquated screw press from the old mint, which relied on manpower to produce coins, was not an acceptable option to U.S. Mint Director Samuel Moore. For several years, Moore had considered purchasing modern steam presses from the Soho Mint in Birmingham, England, which was founded and operated by Matthew Boulton. Instead, Moore set his sights on hiring a new employee whom he could send on an extended tour of European mints and refineries, a person who would study the best facilities and bring their knowledge back to modernize the Philadelphia Mint. This new hire would be given the title of assistant to the assayer, Jacob R. Eckfeldt. U.S. Treasury Secretary Louis McLane appropriated $7,000 to fund Moore's ambitious project.
But who was up to the task and available to live in Europe for well over a year? Moore's cousin Robert M. Patterson (who would later replace him as mint director) highly recommended Franklin Peale. Patterson wrote, "I do not know any man more likely to succeed in such a mission. His skill, his perseverance, his address all fit him for the errand." Based on Patterson's letter, Moore hired Peale without reservation. Peale wrote that he was "very desirous of vacating the situation that I have held for many years as Manager of the Philadelphia Museum, it will therefore be agreeable to change even at a pecuniary sacrifice."
Bringing Home the Goods
Among the most important processes Peale was asked to learn (and bring back to Philadelphia) was the "humid" titration method of assaying silver for purity. (Silver titration is a common laboratory method of quantitative chemical analysis used to determine the precious metal's purity.)
In July 1833, Peale received permission to learn about the method at the Paris Mint. He wrote, "I am now in consequence daily prosecuting my practice in the art of assaying by the humid mode." Peale ordered solutions and assay equipment from the Paris Mint for shipment to Philadelphia.
Reduction Lathe
When Peale left for Europe, coin and medal engraving was a time consuming, laborious art. The chief engraver created each master die by hand, cutting the design into a piece of steel the diameter of the coin. The process took months and could be ruined by the slip of a tool. Upon completion, the master die was used to strike coins or was pressed into softer steel to create a master hub (with a convex device). Several blows from a large press were needed to craft a master hub, and the engraver's work could be ruined in the process.
At the Paris Mint in 1833, Peale witnessed the use of the mechanical reduction lathe designed by Charles Contamin. The piece of machinery, called a tour à portrait de Contamin, eliminated the need for an engraver to cut the device into a steel die cylinder. Instead, the engraver sculpted a clay or wax model about 6 inches in diameter. This was used to make a plaster cast, which, in turn, served as a model for a metal cast (galvano). The lathe traced the contours of the galvano, reducing the size of the design and transferring it to the steel die.
Peale wrote in his report that the tour à portrait de Contamin was a "most beautiful and important instrument. It is used for copying and reducing to any desired scale dies or medals. Its construction is such as to give perfect facsimiles of the original in steel or other metal."
European Toggle-Joint Coinage Presses
As Peale visited European mints, he learned about different types of coin presses. Steam power revolutionized European screw presses, and the toggle-joint (or "knuckle-joint") had been adapted for use in coining presses. It was the latter that interested Peale the most. Unlike The continuous application of force by the steam-powered screw press, the toggle-joint press had two arms that pivoted at a common point, with one end of the pivot fixed. Pressure was applied by straightening the angle between the two arms.
In 1813 Johann Diedrich Uhlhorn, a German craftsman, built a working prototype of a coin press employing the toggle-joint mechanism. Allowing coins to be produced at a much greater speed than was possible with the manual screw press, the machine was purchased for the mints in Düsseldorf in 1818 and Berlin in 1820. Six years later, Uhlhorn's invention was found at minting facilities in Munich, Vienna and Utrecht. By 1834 Peale saw Uhlhorn's toggle-joint coin presses at one of the German mints.
A Parisian maker of printing presses, Pierre-Antoine Thonnelier saw the Uhlhorn coin press in action at the mint in Munich. Inspired, he returned to Paris and began working on ways to re-engineer the press. By 1832, Thonnelier had created his own version of the toggle-joint press. He used the same relative position of the machine's parts, but reduced the span of its connecting rods and increased its mass.
While visiting the Paris Mint in 1833, Peale saw an early Thonnelier coin press in action. He was allowed to examine it closely and wrote that he was "much delighted in witnessing the operation of a new coinage press by a M. Thonnelier of Paris …It is remarkable for its simplicity and efficiency . . . It may be better driven by steam and this can be done without the addition of a single part." He informed Patterson that he could ship one to Philadelphia for 15,000 francs, but felt the price was too high. "In the meantime the circumstances being such as to prevent my making measurements," wrote Peale. "I have made a draft of its essential parts and arrangement from memory in which I do not fear to have lost anything of consequence."
Peale's Press
Peale returned to Philadelphia in 1835 with detailed plans to create his own toggle-joint coin press. He did not copy Uhlhorn's or Thonnelier's machines; instead, he took the basic principles behind them and applied his advanced mechanical knowledge to streamline the minting process. Numismatic scholar and author Roger W. Burdette writes, "Peale seems to have selected the best from European examples, and discarded all unnecessary complexity and ineffective motion. His coin press is simple, direct [and] entirely effective in operation."
The basic mechanics of Peale's press used components and elements found in locomotives and stationary steam engines. His toggle-joint press had fewer moving parts and less critical connections than its counterparts in England and Europe. It had large, cast-iron components, and the joints, including the toggle, were easily accessible. Different sizes of Peale's coin press had the same design, and they all operated identically. No delicate parts or fine adjustments were necessary; his machine was reliable and easy to maintain.
Rolling-Mill Improvements
Rolling mills flattened thick ingots of metal into long, thin strips, from which coin blanks were cut. Rolling mills had two polished steel cylinders, with one placed above the other. The spacing between the cylinders was a little smaller than the thickness of an ingot, and the steel rollers compressed the metal bar slightly and made it thinner as it moved between them. After the metal passed through the rollers multiple times, it was the approximate thickness of coinage.
Rolling mills were problematic. Irregularities in the gears, when combined with their different sizes and ratios, resulted in one roller turning faster than the other. This created small ripples in the strip as one side dragged slightly ahead of the other. Optimally, both rolls needed to turn at identical speeds. However, Peale used his advanced technical skills to eliminate these problems.
Peale's Steam Engine
Perhaps Peale's greatest contribution to 19th-century engineering and modernization at the U.S. Mint was his steam engine. Burdette writes:
Peale's 1839 horizontal steam engine was not the first used by the Philadelphia Mint, but it was the first to be fully designed and built with specific needs of the mint in mind. Power production was modest—just twenty-five horsepower—but the machine was quiet, reliable, and simple to operate by standards of the time ...The new engine drove the belts and pulleys that powered a suite of new toggle presses, upsetting machines, and redesigned rolling mills.

Peale's design approach to a steam engine was...to reduce complexity and emphasize performance. In the case of a U.S. Mint steam engine, Peale wanted efficiency, unobtrusiveness and attractive appearance… Peale's steam engine... was a modern machine intended to publicly display the nation's progress in engineering and machinery. It also reinforced the mint's status as a leader in technological progress—equal or superior to its European cousins.
Other Improvements & Inventions
Peale used the knowledge he gained during his two-year European trip to make significant improvements to existing equipment and to develop and create his own inventions. For example, he improved the "drawbench," which was used to produce a strip of metal of a uniform thickness usable for planchets. He made furnaces and the annealing process more efficient, and invented large and small blanking presses.
In 1836 Peale developed the "upsetting machine" (also called a milling machine), which was powered by steam and used for raising edges on the rims of coin blanks. He also designed a "piling box," wherein a mint worker would drop blanks of different sizes and then shake the box. Parallel grooves corresponding to the size of the different blanks would catch them and lay them side by side in rows "from which they [could] easily be lifted in rouleaux [a cylindrical roll] as required to be passed to the feeding tubes or the mills or presses." He also improved the counting board, which allowed mint employees to quickly tally coins.
Peale's Follies
Although Franklin Peale was a creative innovator and inventor, he also had an extensive series of expensive failures and "experiments." His "improvements" to the drawbench cost the U.S. Mint between $1,500 and $2,000. In his U.S. Mint and Coinage (1966), author Don Taxay wrote: "The only disadvantage was that as soon as the strip passed through the plates, the piston was driven with tremendous force against the end of its cylinder, causing a violent concussion and endangering everyone in the vicinity." The drawbench, which earned the nickname "Peale's machine gun," was used for a brief time and then retired as useless.
Peale's large lathe for turning large metal rollers cost the government at least $2,000. Taxay wrote that Peale once admitted the lathe never worked and most likely never would. He later blamed its failure on the mint's adoption of cast-iron rollers.
James Canby, a mint workman, later testified that he and William Snyder, a machinist, spent between $ 1,800 and $2,000 to build a single scale for Peale. Blaming the men for their extravagance, Peale failed to mention he later attempted to gild the beam and other parts with gold.
Peale also invented a very unusual item: the "noisy sofa." When sat upon, it emitted a blaring trumpet blast, presumably as an alarm. But for what purpose would a couch need an alarm? It took two weeks, four workmen, and $200 to craft the piece of furniture, the full purpose of which reportedly was to terrify children and annoy female visitors. The sofa sat in Peale's office before Mint Director Patterson took possession of it.
According to Taxay, Peale's "experiments" were financed by the systematic filching of petty sums, which were used to augment the general mint fund. The Act of January 18, 1837, specifically stated that no depositor should be charged in excess of "the actual expense to the mint of the materials and labor employed." The act's 14th section, however, declared that "when gold and silver are combined, if either of these metals be in such small proportion that it cannot be separated advantageously, no allowance shall be made to the depositor for the value of such metal." Patterson, twisting the word "proportion" to mean "amount," declared that silver should not be parted when its aggregate value was less than $5. He thus invoked a seigniorage by which the poor depositor was cheated out of up to $5 in silver every time he stopped off at the mint with less than about 70 ounces of gold and silver. (Obviously the practice had no effect on the rich mine owner.) Patterson's rationale for this swindle was that the separation process took disproportionately longer on small deposits and delayed the coinage operations. Strange as it seems, this explanation was accepted as satisfactory by two U.S. Secretaries of the Treasury, who, in 1837 and 1849, consented to the practice.
Bad Behavior
On August 1, 1851, Professor Richard McCulloh, the mint's former smelter and refiner, wrote a letter to U.S. President Millard Fillmore. In it, he accused Peale of "lavish and unnecessary expenditure of public money without adequate appropriation or useful effect." He also reported Peale's "unofficerlike and demoralizing proceedings," and his "malicious intermeddling with the duties of other officers of the mint and false representations of their conduct." McCulloh closed his letter by concluding that Peale was unfit for his position.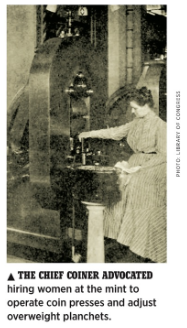 In that same letter, McCulloh charged that Peale had used the services of mint employees for his own purposes. Subsequent investigations include the testimony of Phineas Rowan, a mint workman who had spent two days plastering Peale's home and a half day shaking out his carpets. Robert Wallace said he and John Rickard had once spent two days cutting the panels out of framing under the stairs of Peale's house and putting in "gauze wire," and that he repaired a window sash at Peale's home. On occasion, Wallace also performed other tasks there. He reported he had repaired music stands, several chairs and other items for Peale. (The music stands were used for the Musical Fund Society, of which Peale was a member and Mint Director Patterson was a co-founder.)
William Snyder, an erstwhile machinist at the mint, resigned due to Peale's "intolerance and malversations." Snyder testified that Peale, who at that time was building kites in the mint's workshop, stopped Snyder from crafting a government scale so he could create some juggler's props for the Musical Fund Society fundraising fair. Snyder also testified that when Peale's archery club had its outings, mint workers were required to fix tents and make bows and arrows and other equipment. Snyder also declared that Peale had a turning lathe built in the mint for Peale's and other privileged individuals' private use; that mint workmen were required to fix tin utensils, shower/bath fixtures and other articles at Peale's home; that the trellis in front of Peale's house was built at the mint; that Peale's old furniture was repaired and his old silverware cleaned at the mint; and that Peale often bought old silver plate brought in by depositors that was meant for coining.
Private Business
Richard McCulloh also charged Peale with "appropriation or benefit to his own gain to which he was not legally entitled." Indeed, Peale used the mint's employees (during their regular work hours) to operate a full-time and profitable medal business. Outside artists supplied castings suitable for reduction, and Peale supervised the preparation of dies and planchets and was paid for the work. This happened despite an Act of Congress on August 23, 1842, that forbade any public official from receiving additional, unauthorized compensation.
The problem with Peale's thriving business was that he had to depend on the melter and refiner for his bullion. Everything was fine when his friend Dr. Jonas McClintock had that job. But in 1846, McClintock resigned and was succeeded by McCulloh. Initially, the latter gave Peale the bullion he needed, but after a while, he refused to do so. McCulloh even wrote to Patterson about the issue, reminding the director of existing laws, adding that "within the mint, the workmen, with few exceptions, believe it wrong and unauthorized by law, that they should be required to labor for the pecuniary benefit of an officer."
Patterson replied he did not wish to discuss Peale's medal business and, "that you are responsible for the bullion placed in your keeping, [therefore] you have a perfect right to decline an interchange of any part of it, even if for other bullion of equal value, and even if required for the purposes of the Government, if such be your will in the case."
When Peale convinced Patterson to do away with McCulloh's assistant's position, McCulloh resigned and began a campaign against Peale and Patterson in the November 14, 1850, pages of the New York Evening Express:
It does not appear by the published laws of the United States that Congress has ever given authority to persons employed in the mint thus to convert it into a workshop for their gain, nor even that medals may be made in the mint for the Government, as a source of pecuniary benefit to its salaried officers...The whole business is corrupt, and the officers engaged in it deserve the severest censure. And if the President has overlooked such official misconduct, then Congress should see to it, and deal with those who have thus abused the responsible stations they occupy as they justly merit.
President Fillmore forwarded the article to U.S. Treasury Secretary Thomas Corwin, who sent it to Patterson for an explanation. Patterson admitted to Peale's illegal production of medals, but excused it, saying no one outside the mint was capable of doing such work. (This was a ridiculous statement!) Additionally, Peale had assured Patterson that "the use of the machinery is all the advantage accruing to him, and does not in any way interfere with the usual mint operations." Corwin accepted this explanation, and the issue was dropped.
But McCulloh did not give up. In July 1853, he published a long treatise titled "The Proceedings of the late Director of the Mint in relation to the official Misconduct of Franklin Peale, Esq., Chief Coiner and Other Abuses in the Mint," in which he reviewed the correspondence and other material related to the subject. James Ross Snowden, the mint director at the time, wrote to U.S. Treasury Secretary James Guthrie after reading McCulloh's scathing essay:
It is proper that I should call your attention to the fact that the making of medals in the mint has heretofore occasioned unpleasant remarks. It has been objected to, because the material and machinery of the government has been used for private purposes and made a source of profit to some of the persons employed in the Coining Department. Heretofore considerable profits have been made by the persons who have executed the medals.
Guthrie agreed with Snowden, and on August 24, 1854, issued a series of mint regulations that included the following:
No profit can accrue to any officer of the mint by reason of the legitimate operations thereof, and no private or extra official work can be done therein, with or without compensation of reward by an officer, clerk, or workman. In case of violation of this rule, the Director, if the offender is a workman, will forthwith dismiss him, or if an officer or clerk, report the fact to the Secretary of the Treasury.
What happened next? Snowden wrote to Guthrie, requesting that charges be filed against Peale. Guthrie then wrote to President Franklin Pierce, who promptly fired Peale.
However, the U.S. Mint's corrupt chief coiner would not go away. Peale had the chutzpah to petition Congress for $30,000 as remuneration for having freely given his inventions and mechanical improvements to the government, despite that he received a handsome salary for many years and took financial and personal advantage of both mint employees and machinery, as well as taking all the gold and silver bullion he desired for his thriving—but illegal—medal business.
In the U.S. Senate, the Committee on Claims lowered the amount to $10,000 because those inventions and improvements had indeed been at the expense of the mint. The bill was finally enacted in March 1873 on behalf of Peale's daughter, Anna E. Peale.
After Peale's death on May 5, 1870, his widow, Caroline, presented a marble bust of her late husband to the mint. It was "to be set upon a pedestal, in some position, where it may be open to the inspection of visitors and preserve his memory to future generations." However, the work of art was never displayed and is nowhere to be found at the mint today.
LEARN MORE
Burdette, Roger W. "Benjamin Franklin Peale: Inventions and Innovations for the United States Mint, 1835 to 1852." Journal of Numismatic Research, Issue 2 (Spring 2013).
Taxay, Don. The U.S. Mint and Coinage. An Illustrated History From 1776 to the Present. New York: Sanford J. Durst Numismatic Publications, 1966.
About the American Numismatic Association
The American Numismatic Association is a nonprofit organization dedicated to educating and encouraging people to study and collect coins and related items. The Association serves the academic community, collectors and the general public with an interest in numismatics.
The ANA helps all people discover and explore the world of money through its vast array of educational programs including its museum, library, publications, conventions and numismatic seminars.