Cherrypicking Basics
"Buy the book before the coin" is a well-known refrain in coin collecting, but it may be most true when it comes to cherrypicking. Many collectors love to cherrypick, whether to fill in rare varieties on a budget, or to flip coins for a profit. Whichever camp you fall in, there are plenty of cherrypicking opportunities out there.
What is Cherrypicking?

Cherrypicking in numismatics most often refers to searching for uncommon varieties that haven't been attributed, then purchasing them for the price of a "normal" example. Some series are very well-suited to cherrypicking, including a lot of 20th century series, while others will be more difficult. In general, the higher the value of the series you're looking for, the harder it will be to find any unattributed pieces. Dealers will have spent more time with these coins to be sure they have everything identified correctly, while lower value pieces don't warrant as much examination.
Other Forms of Cherrypicking

Cherrypicking, as a dictionary term, is quite broad. The description above is how it's most commonly applied to numismatics, but other interpretations are possible as well.

You could try to cherrypick coins that are misattributed and undervalued. Take matte proof Lincoln cents for instance. In the early days of wheat pennies, matte proofs were made that don't look much different than an uncirculated business strike to the untrained eye. However, they're worth significantly more, and with a little practice, aren't hard to identify.

For an even broader definition, you could simply try to cherrypick undergraded pieces. These could be raw coins that a dealer has estimated below the proper grade, and therefore underpriced, or pieces that have already been graded that you believe should be higher. (This can be a difficult game to play, but it does fall within cherrypicking.)
How to Get Started

The most important thing you need to start cherrypicking is knowledge. There are plenty of books on cherrypicking as a whole, as well as guides for specific series, and these are a must-have. You'll need to familiarize yourself with the identifying features of different varieties well enough to spot them easily on the fly. If you're looking for undergraded pieces, it's important to study plenty of examples in different grades until you have a strong grasp on the difference between them.
Where to Look

Cherrypicking can be a great way to have fun with coin collecting and – hopefully – get your hands on some valuable pieces. You're never guaranteed to find what you're looking for, but that just makes it all the more exciting when you do.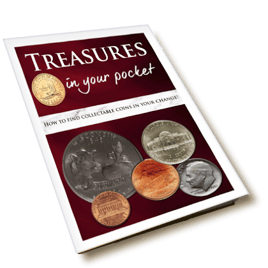 Learn more about cherrypicking with Treasures in your Pocket, from the ANA. Happy Collecting!
---
About the American Numismatic Association
The American Numismatic Association is a nonprofit organization dedicated to educating and encouraging people to study and collect coins and related items. The Association serves collectors, the general public, and academic communities with an interest in numismatics.
The ANA helps all people discover and explore the world of money through its vast array of educational programs including its museum, library, publications, conventions and numismatic seminars and webinars.
Register for FREE Numismatic Webinars from the ANA
Enjoy live online courses and lectures from fellow collectors and professional numismatists. Webinars are free and open to the public unless otherwise noted. Register now—space is limited!