There are a lot of fascinating things in numismatics. There are coins from ancient empires, and coins from every corner of the modern world. Coins have survived shipwrecks, or centuries buried underground. There are coins made of precious gold and silver, and from enough other metals to cover a big chunk of the periodic table. And there are coins that portray virtually every element of human endeavor, with countless images of history, nature, and culture.
But if you want just one, single item to convey the essence of numismatics, one coin with a story so captivating that it evokes all of the best elements of the hobby, the choice is easy. The most compelling numismatic collectible is the 1943 steel cent.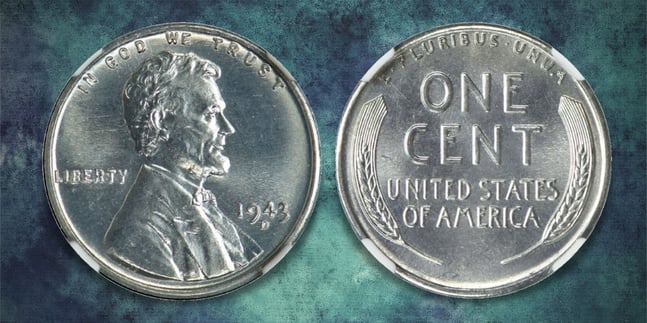 1943 STEEL CENT
It's fascinating in part because of its design. Today, Lincoln Cents are humdrum objects, treated with disinterest: taken or left at cash registers, and ignored on sidewalks. But when Lincoln Cents were introduced in 1909, they were really something. The very idea of a circulating coin featuring a real, historical person was an innovation at the time. A few commemoratives had portrayed important people from American history (Columbus, Queen Isabella Washington, Lafayette, Lewis and Clark), but they were very limited issues, sold at a premium to coin collectors. On circulating coinage, allegories of Liberty had dominated, in numerous different portrayals.
Who better than Lincoln, the Savior of the Union and the Great Emancipator, to be the first historical person on an American coin? President Theodore Roosevelt had engaged sculptor Victor David Brenner to design the new coin, which debuted in 1909 for the centennial of Lincoln's birth. The Lincoln Cent was immediately popular, but along with popularity came a controversy instigated by Brenner's initials V.D.B. on the coin's reverse. The idea of giving credit to a coin's designer was nothing new (though usually with a single initial), but when journalists started to inquire, spooked Treasury officials had the initials removed (they were restored, to a less prominent position on Lincoln's shoulder, in 1918).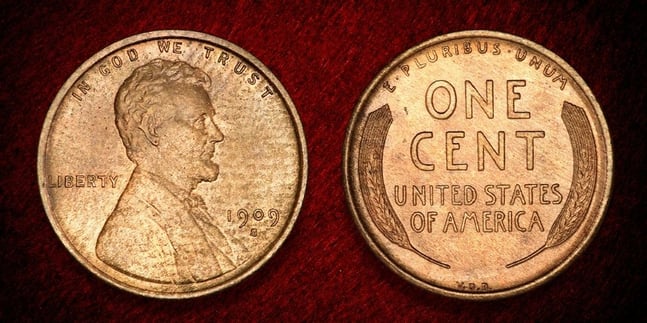 1909 V.D.B. CENT
The Lincoln cent series certainly doesn't lack for compelling coins. In addition to the key 1909-S V.D.B., the 1909-S, 1914-D and 1931-S are also semi-keys. Prominent mistakes spice things up – most notably, a very prominent doubled die in 1955, resulting from mistake in die production that imparted a doubled image. Lesser but still notable doubled dies arose in 1972, 1983, and 1995. And designs have come and gone: the original wheat design on the reverse was replaced by the Lincoln Memorial beginning in 1959, and that, in turn, made way for four different issues honoring Lincoln's bicentennial 2009. A new, permanent design, featuring a Union shield, has been in place since 2010.
"With a century's worth of twists and turns, and with so many issues available from circulation or at very low cost, it's no wonder that the Lincoln Cent is such a popular collectible for beginners."
But even in a series as captivating and as popular as the Lincoln Cent, the 1943 cent stands out. The most obvious reason is that it's just different. Its distinctive physical characteristics are immediately obvious: composed of steel, with a thin plating of zinc, its silvery appearance always stands out in a crowd of red-to-brown cents. Scientific types may also appreciate that it's the only US coin attracted to a magnet.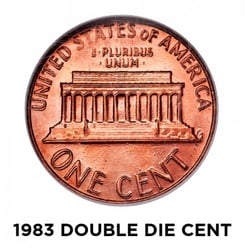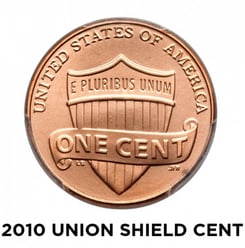 But there's far more to the story of the 1943 cent. It represents one of the clearest connections between history and coinage. The coin, made during the second full year of America's involvement in World War Two, was part of an effort to conserve copper for the war effort.
At that time everything in American society, even the humble cent, contributed to the war effort. To give a sense of the amount of metal involved: had 1943 cents been made of copper, they would have consumed about ¼ of 1% of that year's U.S. copper production. But even beyond its physical utility, there was an important psychological element to the switch. Every time a 1943 cent changed hands it sent the message: we're all in this together.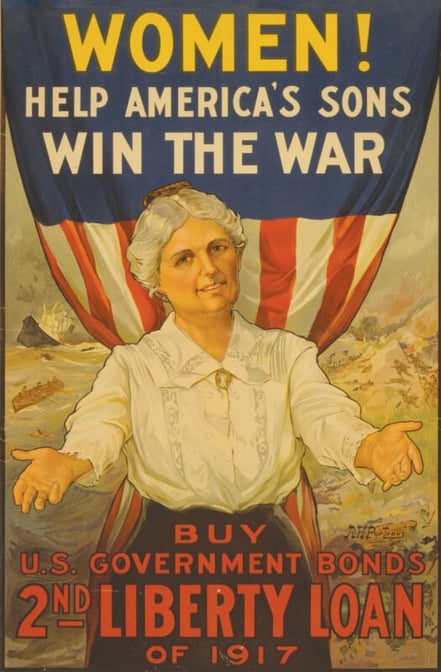 The steel composition was abandoned after only a single year, a victim of corrosion (chiefly on the coin's unplated edges), rejection (by vending machines) and confusion (with a dime). But the numismatic war effort continued. Steel cents were joined by nickel-less "nickels," similar to their regular counterparts when new, were made from 1942 to 1945. Also for the duration of the conflict, recycled shell cases were included in the supply of copper used to make cents.
The steel cents were gradually withdrawn by the Treasury – hence the lack of very well-worn pieces. But they were never recalled, and they remain legal tender to this day.
The steel cent also has a very specific international connection. In wartime Europe, ugly low-grade zinc coins represented nations in bondage. But later, after the liberation of Belgium in 1944, blanks originally intended for steel cents gained new life as blanks for 2-franc pieces.
If you'd like to learn more about the 1943 cent (and Lincoln cents in general), there are a variety of options. Most numismatic references, including A Guide Book of American Coins (a.k.a. "The Red Book), describe the coin's story, at least briefly. You'll find much more elaborate coverage in David Lange's Complete Guide to Lincoln Cents and Q. David Bowers' A Guide Book of Lincoln Cents. The ANA's FAQ page answers questions related to the cent. And for a more detailed exploration of American wartime coinage, including experiments with plastic coins, there's Roger Burdette's United States Pattern & Experimental Pieces of WW-II.
Owning a 1943 steel cent is as easy as can be. More than a billion were made, primarily at the Philadelphia Mint but also with sizable numbers from Denver and San Francisco. The coins are so plentiful, and so inexpensive, that the supply seems essentially infinite. An uncirculated piece might cost a dollar or two, or a bit more for an especially well-preserved example. Lightly circulated 1943 steel cents are extremely inexpensive – it's easy to find single pieces for 25 cents or less, and rolls of 50 for $10 or so.
The most compelling coin in numismatics, for the grand price of 25 cents? That's a real bargain. If you want to light a spark of numismatic imagination – in someone else, or in yourself – there's no better choice than a 1943 steel cent.
There are plenty of myths out there about coin collecting, many of which are either objectively wrong or can dissuade new collectors. In this post we'll take a look at some of the most widely repeated ones and address why they're incorrect.
---
About the American Numismatic Association
The American Numismatic Association is a nonprofit organization dedicated to educating and encouraging people to study and collect coins and related items. The Association serves collectors, the general public, and academic communities with an interest in numismatics.
The ANA helps all people discover and explore the world of money through its vast array of educational programs including its museum, library, publications, conventions and numismatic seminars and webinars.