National Coin Week has been a long-standing tradition in the numismatic community, celebrating the art, history, and cultural significance of coins and currency for the past century. As we approach the 100th annual National Coin Week, it's a great opportunity to reflect on the evolution of numismatics and the role it has played in connecting collectors, enthusiasts, and the public. This year's theme, "Our Money, Our Heritage, Our America," invites participants to explore the fascinating connection between coins and American history.

Read on to learn more about the history of National Coin Week and how you can join the festivities. The 100th National Coin Week is an ideal time for coin enthusiasts, history buffs, and those intrigued by numismatics to come together and celebrate this significant milestone.

A Century of National Coin Week: A Brief History

National Coin Week was initiated in 1924 by the American Numismatic Association (ANA) as a means of engaging the public and promoting the study and collection of coins. The idea was first proposed by Julius Guttag, a prominent numismatist, who envisioned a week-long event dedicated to the appreciation and education of numismatics. Since its inception, National Coin Week has grown in popularity and scope, featuring a variety of activities such as educational presentations, exhibits, coin shows, and other events. Each year, the event is organized around a specific theme, allowing for a focused exploration of numismatic history, culture, and art.

Over the past century, National Coin Week has inspired generations of collectors and enthusiasts, fostering a deeper appreciation for the history and significance of coins and currency.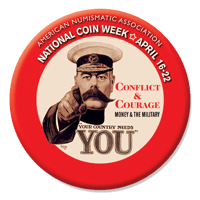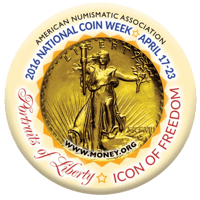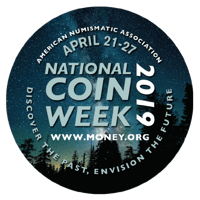 Celebrate the 100th National Coin Week with the American Numismatic Association

To commemorate the 100th National Coin Week, the ANA has planned a series of engaging and educational activities and resources for serious collectors, enthusiasts, and newcomers alike. Visit the National Coin Week website (nationalcoinweek.org) to find out how you can participate in the fun and rewarding activities below:

► Interactive Social Media Challenge: Participate in an exciting social media challenge for a chance to win fantastic collectibles.
► National Coin Week Online Trivia: Participate in daily trivia questions for a chance to win 2023 proof sets.
► National Coin Week Webinar Series: Attend FREE informative presentations throughout the week, covering various topics related to numismatics and coin collecting. Register now!
► Young Numismatist Activity: Encourage a new generation of collectors by getting involved in a special activity designed for young numismatists.
► Online Resources and Lesson Plans: ANA clubs and members can access a variety of resources and lesson plans to promote National Coin Week in their communities. Explore these materials and share your passion for numismatics with others.
► Annual ANA Club Trivia Challenge: Put your numismatic knowledge to the test in the annual trivia challenge, where you can compete for a variety of prizes.
Special ANA Membership Promotion

In celebration of the 100th National Coin Week, the American Numismatic Association is offering a special membership promotion. For a limited time, new members can enjoy a $10 discount when they join the ANA, granting access to a wealth of numismatic resources, educational opportunities, and exclusive member benefits all for as little as $20 per year. To take advantage of this promotion, visit the ANA website at info.money.org/ncw-2023-promo.

The 100th National Coin Week is a unique opportunity to delve into the captivating world of numismatics and explore the theme "Our Money, Our Heritage, Our America." With various activities and special promotions planned by the ANA, there is something for everyone, regardless of their level of expertise or interest in coin collecting. Join the celebration during National Coin Week, April 16-22, and discover the fascinating world of money.

---
About the American Numismatic Association
The American Numismatic Association is a nonprofit organization dedicated to educating and encouraging people to study and collect coins and related items. The Association serves collectors, the general public, and academic communities with an interest in numismatics.
The ANA helps all people discover and explore the world of money through its vast array of educational programs including its museum, library, publications, conventions and numismatic seminars and webinars.