The Christmas Truce
As Christmas 1914 approached, it was becoming clear to many soldiers that the war was not going to end soon. Front line troops were increasingly disillusioned with the horror and pointlessness of the fighting and were homesick — they had been promised a short war. American newspapers, taking a neutral stance, suggested that the combatants should observe a "Christmas truce" that might allow them to stand back and think about whether the war was worth the cost. No official truce was called, but an unofficial truce did occur along parts of the Western Front between German and British units and soldiers fraternized, sang songs, exchanged gifts and food, and even competed in soccer games. Senior officers on both sides soon put an end to the demonstrations of comradeship and goodwill to ensure that the business of war could go on …
Bavarian medalist Karl Goetz issued a series of annual medals from 1914 to 1918 commemorating the sacrifice of soldiers and celebrating Christmas. On each medal, a German military and political leader appears on the obverse, while the reverses depict one, two, three, four or five candles, symbolizing the year of the war. The first four medals have a legend translating to "Christmas on the field," while the 1918 medal's legend translates to "Christmas at home." Each medal is 22.5 mm in diameter.
Explore the Money Museum's virtual exhibit below. View on desktop for full experience.
---
Click on the items in the case image below for an enhanced view. Click your browser's back button to exit enhanced view.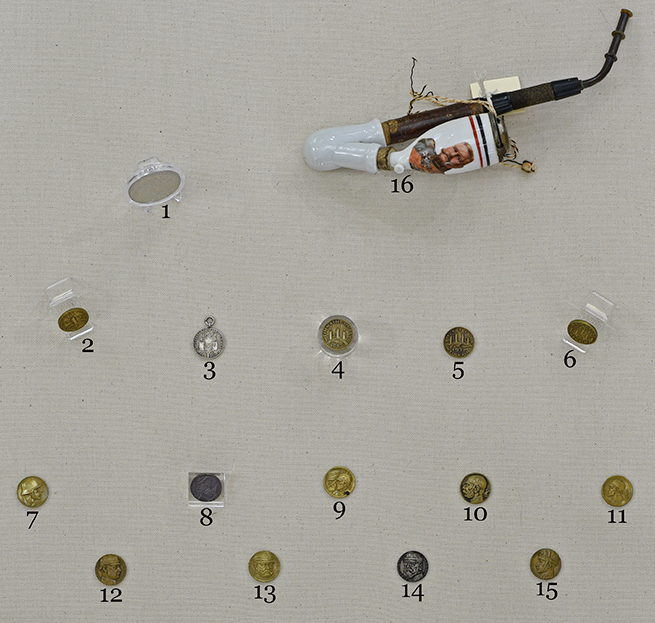 About the American Numismatic Association
The American Numismatic Association is a nonprofit organization dedicated to educating and encouraging people to study and collect coins and related items. The Association serves collectors, the general public, and academic communities with an interest in numismatics.
The ANA helps all people discover and explore the world of money through its vast array of educational programs including its museum, library, publications, conventions and numismatic seminars.