My First Commemorative Coins

Dennis: The United States Mint got back into the business of commemorative coins in 1982, after taking a break for nearly 30 years. The first "commems" had been minted in 1892, for the World's Columbian Exposition. Then followed several decades of special coins authorized by Congress to honor American leaders, celebrate state centennials, remember Civil War battles, and commemorate other important people, places, and events.
By the 1950s, these coin programs had seen many abuses by politicians and promoters out to make a quick buck, as well as some obscure and strangely local commemorations that didn't really merit a national coin. (The 75th anniversary of the Battle of Gettysburg deserves a silver half dollar. But the 250th anniversary of the founding of New Rochelle, New York?) Congress shut down the nation's commemorative coin program after 1954.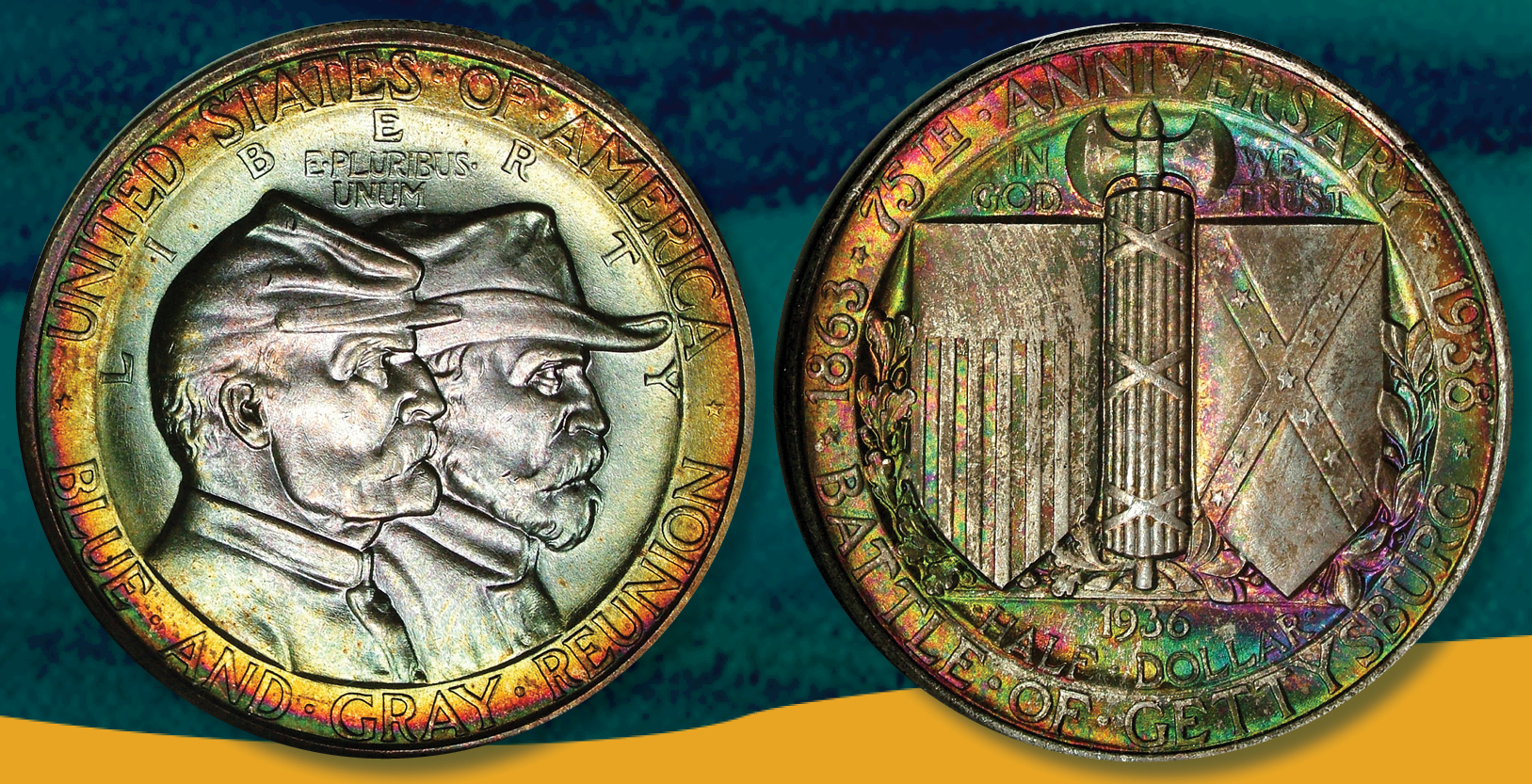 ▲ 1936 Battle of Gettysburg Half Dollar
In 1982 a truly significant national event brought commemorative coins back to life. For the 250th anniversary of the birth of George Washington, the Denver and San Francisco Mints produced the first 90% silver coin made since 1964. Collectors bought more than 7 million of these nicely designed silver half dollars.
This was followed in 1983 and 1984 with coins struck to commemorate the Los Angeles Olympiad. I wasn't in my teens yet, but by that time I considered myself a coin collector, and I was vaguely aware of these new special coins.
► FREE ANA MEMBERSHIP OFFER — AVAILABLE FOR A LIMITED TIME ◄
The first commemorative coin program that really entered my awareness was for the 1986 Statue of Liberty centennial.
I will always have a tender spot in my heart for these coins. I remember reading about them in Coin World and Numismatic News, and sending away for full-color posters made by the U.S. Mint. The designs of the coins themselves were beautiful, as inspiring as the subject herself. These were the first coins that I actively saved up money to buy. I would take my earnings from chores, babysitting, and other work, plus birthday money, and go to the local Fulton Savings Bank branch, where they had the coins for sale. I remember they sold them at K-Mart and Service Merchandise, too. If you wanted one of these coins, or a set, the Mint made them easy to buy, and Americans bought them in droves—nearly 20 million coins all together. This was the exciting high point of our nation's modern (post-1982) commemorative coins.
Today it's newsworthy if a commemorative program sells a million coins. Some individual coins sell in just the thousands. I'm still very impressed with the artistry and historical importance of the Mint's modern commems, but it's a different era. The coins are still amazing; it's the world that's changed.
Steve, were there any commemorative coins that caught your attention when you got started collecting?
Steve: YES! I was fascinated by the world of commemoratives that appeared in the back of the "Red Book" and one of the first coins that I purchased at the local coin shop was an 1893 World's Columbian Exposition half dollar, since it sold for a modest premium to its bullion content and was affordable for a pre-teen collector.
I've long been interested by those that are obviously beautiful, like the 1915-S Panama Pacific International Exposition half dollar and those that are less inspired, like the functional design on the 1935 Old Spanish Trail half dollar. On the latter, Cornelius Vermeule said it, "can safely be designated the ugliest commemorative coin ever produced by a United States mint," though his 1971 book Numismatic Art in America pre-dated the modern commemorative coin program by more than a decade.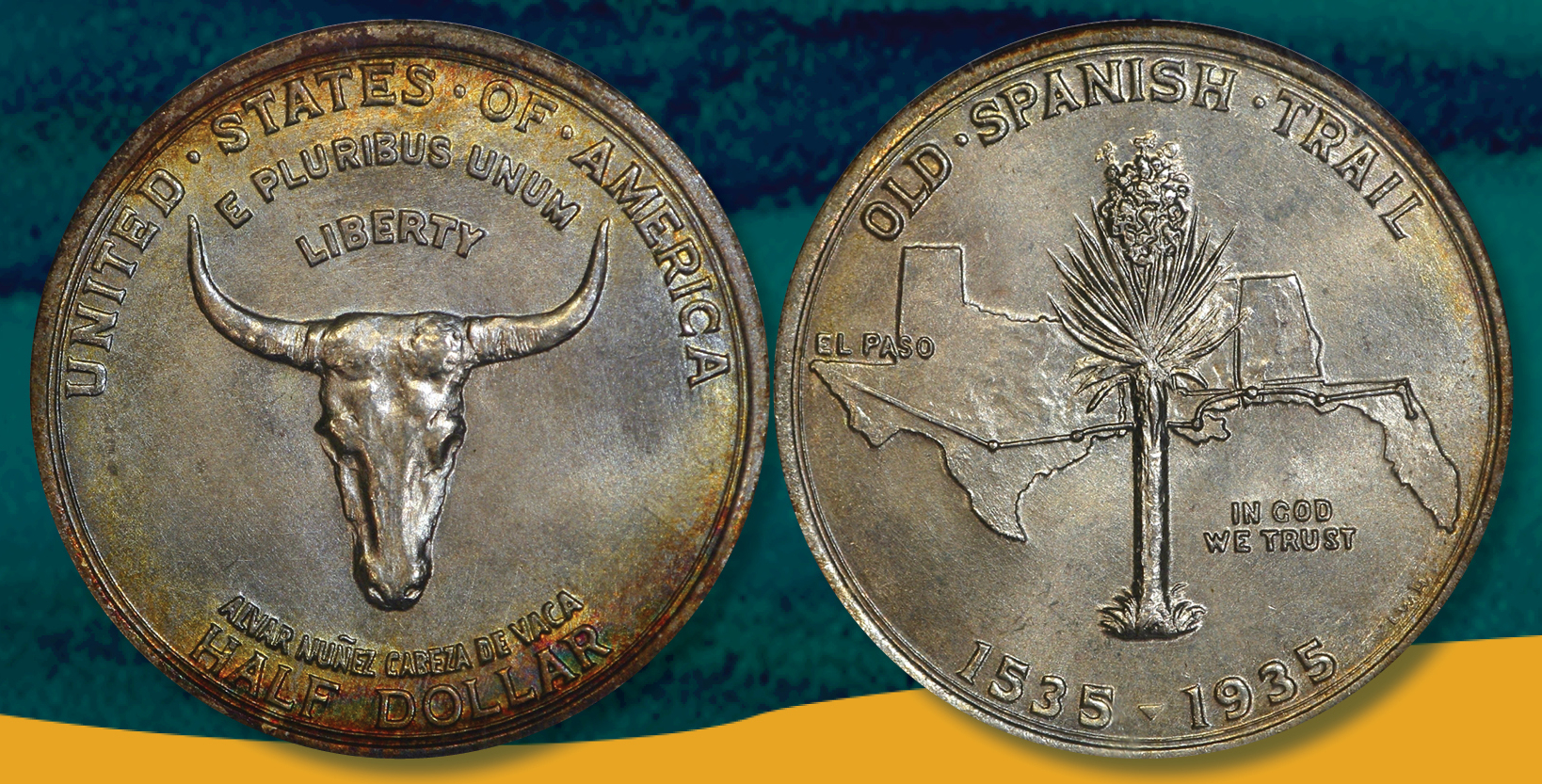 ▲ 1935 Old Spanish Trail Half Dollar

And back in the day, Prestige Proof Sets which were marketed by the U.S. Mint between 1983 and 1997 were the height of "fancy" – especially the years that had both a commemorative silver dollar AND a clad half dollar.

Be on the lookout for another installment of Collecting Friends next month! In the meantime, learn more about commemorative coins with the ANA's online resource, Classic Commemorative Coins.
About the Collecting Friends Blog
Hello! And welcome to the ANA's new blog series, "Collecting Friends."

We decided to approach this much like a conversation between friends. One of us starts with a topic, then the other responds. Simple as that. Along those lines, we'll keep the tone conversational as much as possible.

We both write about coins professionally, and will keep our relative style guides in our writing. For Dennis, Publisher at Whitman Publishing, that means capitalizing "Proof" and italicizing Red Book and never saying anything bad about Ken Bressett, who's awesome anyway.

For Steve, who's written with Coin World for 15 years, it means Winged Liberty Head dime instead of "Mercury" dime, and similar nuances and oddities. And, it means writing A Guide Book of United States Coins (better known as the "Red Book").

Both of us started collecting when we were little, introduced to coins by a chance encounter with an old coin that sparked our curiosity. One of Steve's interests is coin valuation, and he gravitates towards the intersection of art and coins. Dennis enjoys medals and world coins, and studying modern U.S. coins in the context of older series, what came before.

We met in 2012 at the American Numismatic Association World's Fair of Money in Philadelphia at an event hosted by the Austrian Mint where there was both a Ben Franklin and a Betsy Ross impersonator. We've become great friends in the past decade. We even were appointed together to sit on the Citizens Coinage Advisory Committee starting in 2016, but Steve resigned soon after he was appointed to accept a full-time job at the Treasury Department while Dennis was re-appointed in 2020.

We taught a course together on numismatic publishing and writing a few years ago at the Summer Seminar, and while life has gotten in the way of us teaching another class, we jumped at our friend Caleb's suggestion that we write a column. We hope you enjoy it!
About the American Numismatic Association
The American Numismatic Association is a nonprofit organization dedicated to educating and encouraging people to study and collect coins and related items. The Association serves collectors, the general public, and academic communities with an interest in numismatics.
The ANA helps all people discover and explore the world of money through its vast array of educational programs including its museum, library, publications, conventions and numismatic seminars.
Get a One-Year Gold Membership FREE for a Limited Time!
Foster the Future of Numismatics with a Gift to the ANA