Numismatics. It's a world in which collectors will pay millions of dollars for a single nickel or silver dollar. It may not always make much sense to those "outside our world," but hobbyists understand that these small pieces of metal are actually pieces of history that we can hold in our hands. And who knows the identities of those that held them before us? Each coin holds within it a story, and the fascinating stories behind the most expensive coins ever sold demonstrate what collectors truly value – the opportunity to become a part of that story, and to hold and preserve history.
1933 St. Gaudens Gold Double Eagle:

$18.9 Million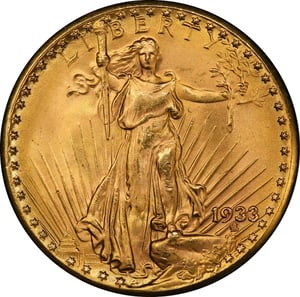 Auctioned by Sotheby's in 2021 for $18.9 million, this coin is remarkable because, when first struck, it wasn't rare at all. In fact, over 400,000 pieces were struck, but most were melted down and never released when new legislation made it illegal to own gold. However, a few pieces survived, one of which found its way to Egypt and into the collection of King Farouk.
When his collection was sold in 1952, the 1933 double eagle went missing, not to resurface until 1996 in the US. It was ultimately ruled that the coin would be sold, and it set a record in 2002 when it was sold privately for $7.6 million. It was revealed when it came up for auction in 2021 that it had gone to Stuart Weitzman, a shoe designer. It's now the only 1933 specimen that is legal to own in a private collection. (Image source Great Collections Coin Auctions)

1794 Flowing Hair Dollar:

$10 Million
In 2013, a stunning PCGS SP66 flowing hair dollar sold from Stack's Bowers for just over $10 million. 1794 was the first year that the US Mint produced silver dollars, and multiple characteristics of this particular piece suggest that it was among the first coins struck, if not the very first piece. It shows an earlier die state than any other known specimens and is the only one with proof-like fields. (Image source PCGS)
1787 EB on Wing Brasher Doubloon:

$9.3 Million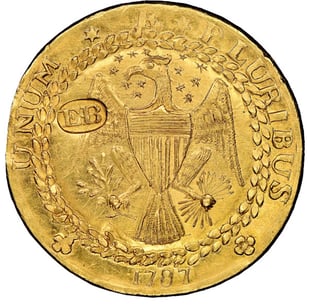 Ephriam Brasher was a prominent citizen of New York, and he submitted a proposal to mint copper coinage for the state. While New York decided not to dabble in minting coins, Brasher went on to produce a few gold coins, now known as Brasher Doubloons. This example is the finest of just seven known examples. It was discovered in 1848 and has only been available publicly three times – in 1907, 1979, and 2021, where it realized $9.3 million at Heritage Auctions. Both earlier sales set records for their time and placed this piece as the most valuable coin, though recent sales indicate that the 1933 double eagle has surpassed it. (Image source NGC® Photo Vision; courtesy Heritage Auctions)

1822 Half Eagle:

$8.4 Million
The only 1822 half eagle held in private hands was sold by Stack's Bowers in 2021 for $8.4 million. Only three are known, even though the original recorded mintage was average for the series and had no extenuating circumstances like the 1933 double eagle. Theories abound, but we don't know exactly why this date is so rare. Both other known examples are in the Smithsonian's National Numismatic Collection. (Image Source: Stack's Bowers Galleries)
1804 Bust Dollar:

$7.7 Million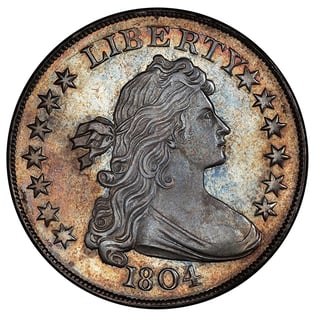 The finest known 1804 Class I dollar, graded PF68, sold in 2021 for $7.7 million. The 1804 dollars are well-known among collectors because of their unusual history. No dollars with this date were produced in 1804, but in the 1830s, a few 1804 dollars were struck to include in sets as diplomatic gifts.
These examples are now known as Class I dollars. When collectors discovered the rarity, Mint officials secretively struck a few additional examples, now known as Class II and III. Today, 15 examples are known in total. Of the eight Class I pieces, this is the single highest graded example. (Image source Stack's Bowers Galleries)

1913 Liberty Head Nickel:

$4.5 Million
One of the most well-known numismatic rarities, only five Liberty nickels were struck in 1913, all of which were unauthorized. Legislation only allowed for buffalo nickels to be struck in 1913, but it's believed that a few rogue Mint employees struck a few illicit specimens.
These famous pieces have been breaking records since 1972, when one became the first coin to sell for over $100,000. In 1996, another piece became the first to sell for over $1 million. The current record holder is the Eliasberg specimen, graded PCGS PF66, which sold in 2018 for $4.5 million. (Image source Stack's Bowers Galleries)
About the American Numismatic Association
The American Numismatic Association is a nonprofit organization dedicated to educating and encouraging people to study and collect coins and related items. The Association serves the academic community, collectors and the general public with an interest in numismatics.
The ANA helps all people discover and explore the world of money through its vast array of educational programs including its museum, library, publications, conventions and numismatic seminars.