It is often said that beginning coin collectors should "buy the book before you buy the coin." There are many excellent reasons why new collectors are told this. It is often said that "knowledge is power." That is especially true in numismatics. And acquiring knowledge, especially for novice coin collectors, can help them make smart decisions. Those smart decisions will result in saving money. Sometimes a great deal of money.
Imagine buying a car without researching its features, its past performance. It's the same idea in coin collecting. Numismatic reference materials are an important tool to help people become informed consumers and collectors. Understanding the history behind the coins is also important for the new collector.
Below the reader will find some important books to consider including in his or her library.
A Guide Book of United States Coins (the "Red Book")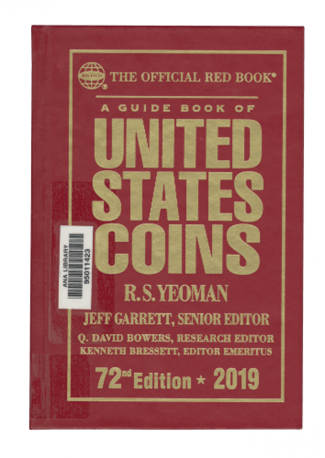 by R.S. Yeoman
Whitman Publishing, 2018
ANA Library Catalog No. GA50.W5
This is the "holy grail" of books for coin collectors. The "Red Book," with its distinct red cover, is the best-selling numismatic book of all-time, and has been published annually since 1947. It's the first book you should get for your numismatic library. Originally developed and created to be a price guide for U.S. coins, A Guide Book of United States Coins has grown over the years to have tons of information on each U.S. coins series, plus a wealth of supplemental information about numismatics. The prices in its pages are based on retail prices of coins. Therefore it is not a tool to use for buying or selling your coins. The prices in the Red Book are a good barometer of relative value and rarity for the novice collector. Use the information contained within its pages to learn about the different series of U.S. coins, and the key dates, semi-keys, and common coins within each denomination and series.
---
The Official A.N.A. Grading Standards for United States Coins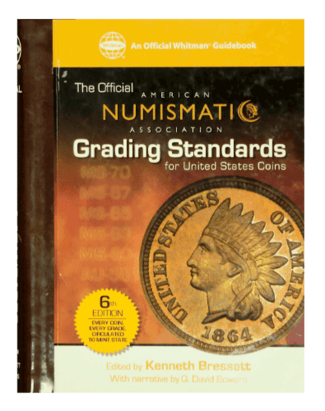 by the American Numismatic Association, edited by Kenneth Bressett
Whitman Publishing, 2013
ANA Library Catalog No. GA50.A5
Next on your library list is The Official A.N.A. Grading Standards for United States Coins. You need to be able to determine the condition or grade of the coins you want to collect. This book explains the grading standards of the American Numismatic Association (ANA), which are employed throughout the entire coin hobby and industry. This must-have reference provides the spectrum of grades for each and every U.S. coin series, with obverse and reverse images, along with detailed explanations of the amount of wear and luster for each. Every coin type wears in a distinct way, therefore you need to know the areas to examine when determining the grade. This is especially true when studying coins in About Uncirculated and Mint State grades, as lack of knowledge in this area can be costly.
---
100 Greatest U.S. Coins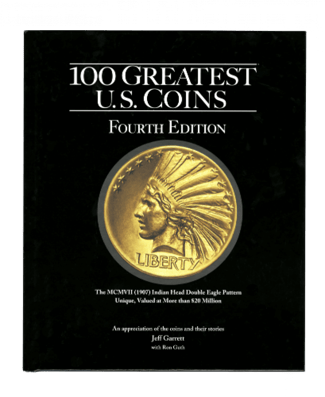 by Jeff Garrett
Whitman Publishing, 2015
ANA Library Catalog No. GA40.G3
This book is a valuable tool for learning about famous pieces of numismatic history. According to Whitman publisher Dennis Tucker, "Each of the 100 Greatest was voted into place by leading coin dealers, researchers, and historians." Readers will find cherished and seldom-seen rarities, as well as specimens that collectors dream about, such as the 1913 Liberty Head nickel and the 1804 silver dollar, the "King of American Coins." The author of this nicely illustrated, large-format tome writes, "The idea for the book came to me when I was constantly asked by non-collectors what the most expensive coin is. When told the auction record is over $10 million, most ask why a coin could be worth so much. The short answer is that they have a great story attached to them. This book tells those stories and gives readers an understanding why the coins are so desirable. Most of the coins in this book are too expensive for the average collector, but most enjoy reading about them."
---
The History of the United States Mint and Its Coinage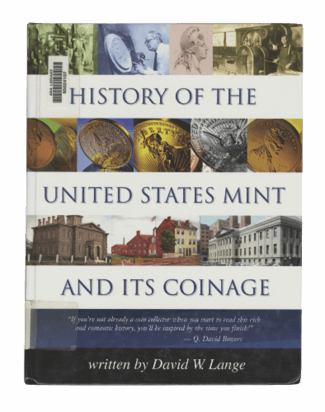 by David W. Lange
Whitman Publishing, 2005
ANA Library Catalog No. GA80.L3H
This book presents the fascinating history of the U.S. Mint, beginning in British colonial times before the American Revolution, including the decisions that helped form our monetary system. For example, it explains why our coinage employs the decimal system and not the English shilling and pence system. The History of the United States Mint and Its Coinage tells how the Mint was conceived by Alexander Hamilton and established by Congress, detailing the birth of America's first minting facility in Philadelphia. This important book documents the stories behind the coins, including the shortages and gaps in mint production. The events leading up to the creation of branch mints in Charlotte, Dahlonega, San Francisco, New Orleans, Carson City and Denver are presented in rich detail. Also included are the stories of designers, sculptors, and engravers who crafted our national coinage.
---
United States Coinage: A Study by Type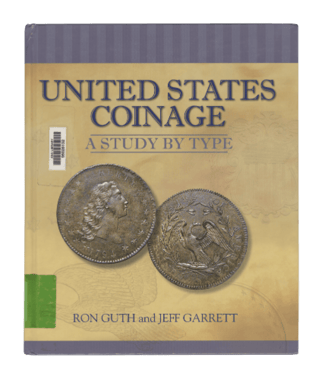 by Ron Guth
Whitman Publishing, 2005
ANA Library Catalog No. GA40.G8
This book presents an outline of United States coins by the various types that have been issued over the years. Beginners can utilize this book to determine which coin or coins he or she would like to collect.
United States Coinage: A Study by Type has great color photos of many "finest known" specimens. This attractive coffee table book will help you in your quest to learn about the fascinating world of numismatics.
---
Acquiring books is an important step in becoming a successful coin collector. These references will help you in your quest for numismatic education and make your journey of discovery an entertaining one.
About the American Numismatic Association
The American Numismatic Association is a nonprofit organization dedicated to educating and encouraging people to study and collect coins and related items. The Association serves the academic community, collectors and the general public with an interest in numismatics.
The ANA helps all people discover and explore the world of money through its vast array of educational programs including its museum, library, publications, conventions and numismatic seminars.