Coin Design and Engraving: Processes and Personalities
Coins are mass-produced, everyday objects, and they wouldn't exist without their economic function. But coins are also miniature works of art. And, like all works of art, they arise from the vision of their creators and are implemented by the technology of their times.
Design Selection
All American coins begin with an act of Congress. Legislation establishes the parameters for the coin's design – sometimes a general theme, sometimes a specific requirement. The United States Mint then solicits designs from two groups: Sculptor/Engravers who are full-time government employees, and members of the Artistic Infusion Program, who are engaged on a project-by-project basis.
In an earlier era, proposed designs would have been submitted as three-dimensional models, about 12 inches in diameter. Today, though, 2-dimensional renderings on paper are the medium of choice. This is understandable, given the large number of coins and medals issued annually, and the prevalence of graphic design in the artistic community.
But the simplified process has introduced its own complexities. Envisioning how a small, three-dimensional coin would look, based on a large, two-dimensional drawing, is one of the most important elements of design evaluation – and one of the most challenging.
After review by the CCAC and the Commission of Fine Arts, and with input from the United States Mint, the Secretary of the Treasury selects the coin's design.
Engraving
Then it's time for engraving – the process that ultimately produces the dies that will go on to strike coins. In the United States Mint's early years, there was a great deal of hand-engraving involved, at coin size. In the 20th century the engraving process involved models in various media, around 12 inches in diameter. The Mint's improved ability to reduce large models to coin size opened up the process to talented outside artists like Augustus Saint-Gaudens, James Earle Fraser, and Adolph Weinman, who would go on to create some of the masterpieces of American coinage.
Initial models were made of clay, followed by versions in plaster or similar material, and finally a metal version, known as a galvano. The galvano would then have been reduced using a pantograph. A stylus on one end would trace every detail of the model, slowly and carefully, while an opposite stylus copied the design, coin-sized, into steel.
In other words, it was an entirely physical process.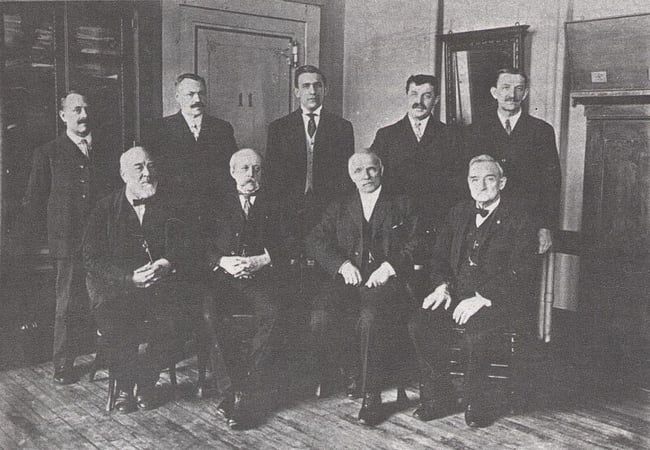 ▲ Engravers of the Philadelphia Mint, featuring C. Greth, J. Beally, H. Blythe, C. Conway, J. Blythe, W. Key, C. E. Barber and G.T. Morgan; circa 1910
Digital Evolution
Today, though, that process has been completely transformed by digital technology. Anyone who's seen a recent animated film knows that representing three-dimensional objects in a two-dimensional format can be done quite realistically. And in fact, it was the technology of animated movies that helped to promote the introduction of digital technology to the United States Mint, via Chief Engraver John Mercanti's viewing of Shrek with his grandson.
Contemporary engraving is done with an advanced digital process, in hardware and software, that mimics and expands the possibilities of physical sculpting. The "sculpting" is done with an input device that looks like a pen attached to a stylus arm, and that offers force-feedback as if sculpting with clay. The results are immediately displayed on a large, high-resolution image that can be viewed and enlarged from any angle.
Among the virtues of this new technology: it's much easier to implement a fix or a modification in a virtual medium than in a physical medium, and it's also straightforward to incorporate a standard template for things like lettering and dates. The new technology is also consistent with the old, as a three-dimensional scanner can capture an image of a physical model in all its nuances. This is useful for artists who prefer to model in clay, and for reproductions of older designs.
The engraving process reaches its fruition in the production of dies for coinage. The digital becomes physical via a computerized numerical cutting (CNC) process that is extraordinarily precise. These master materials in turn make the working dies that are used in coin production.
Dies have been meeting metal to make coins for more than 2,500 years. Now, with the incorporation of digital technology, the process has been updated for a new millennium. As the United States Mint's Sculptor-Engravers continue to update the traditions of their predecessors, it's worth looking back at the biographies of some especially influential engravers.
Influential Engravers
Robert Scot (1744-1823, Chief Engraver 1793-1823). When you see one of the very earliest examples of United States coinage, chances are you're looking at one of Scot's creations. While the nation and its coinage were still new, Scot's artistic style evolved, with different visions of allegorical liberty, and varying portrayals of an eagle as our national symbol.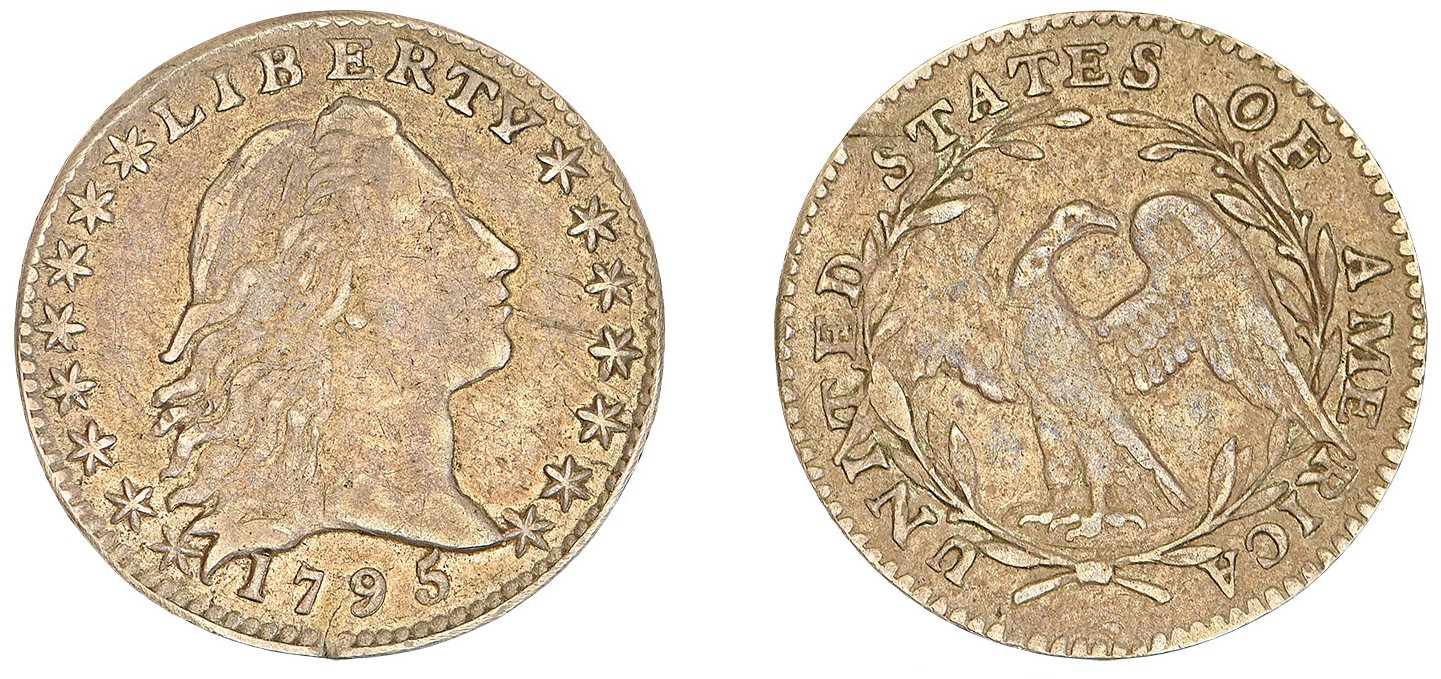 ▲ 1795 Flowing Hair half dime, (1794-95). silver. ANA #1993.10.1
John Reich (1768-1833) Reich was Assistant Engraver at the United States Mint from 1807 to 1817, and his relationship with Scot was not especially warm. Reich was responsible for the Capped Bust designs that were ubiquitous on early 18th-century silver and gold coins, as well as Classic Head copper coins.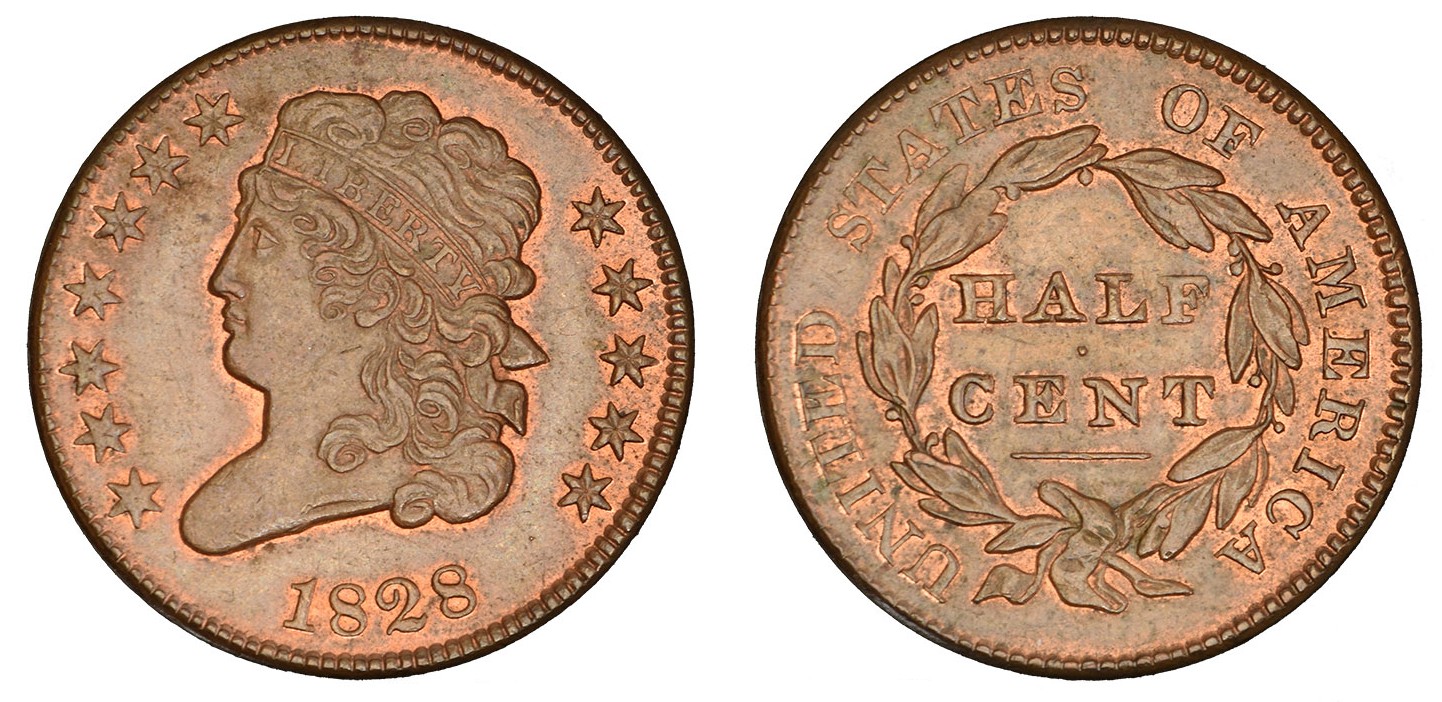 ▲ 1828 Classic Head half cent, (1809-36), copper. ANA #1968.52.2
Christian Gobrecht (1785-1844, Chief Engraver 1840-1844). A clockmaker turned engraver, Gobrecht's coin designs were remarkably long-lasting. On silver coins his Seated Liberty motif lasted from 1836 to 1891, and his Liberty Head gold coins, first issued in 1838, were still being made in 1908. One of his eagle designs, later used on the Flying Eagle cent, was an early example of naturalistic imagery on a coin.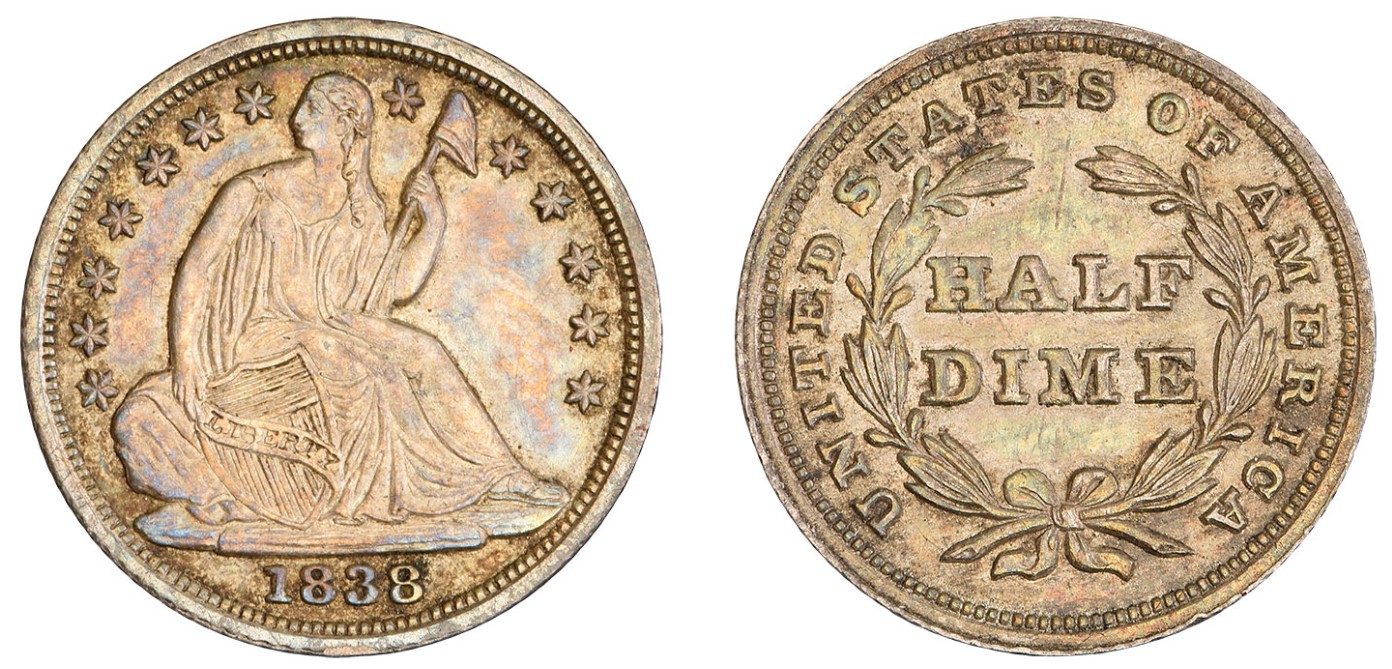 ▲ 1839 Seated Liberty half dime, (1837-73), silver. ANA #1987.18.223
James B. Longacre (1794-1869, Chief Engraver 1844-1869). If a need arose for a coin design between the Gold Rush and the Civil War, Longacre was there to fulfill it. His first designs were for new denominations: gold $1, $3, and $20, and silver 3-cents. The ubiquitous Indian Cent was also his creation, as were the new minor coins (2-cent, 3-cent, 5-cent) issued in the tumult and aftermath of the Civil War.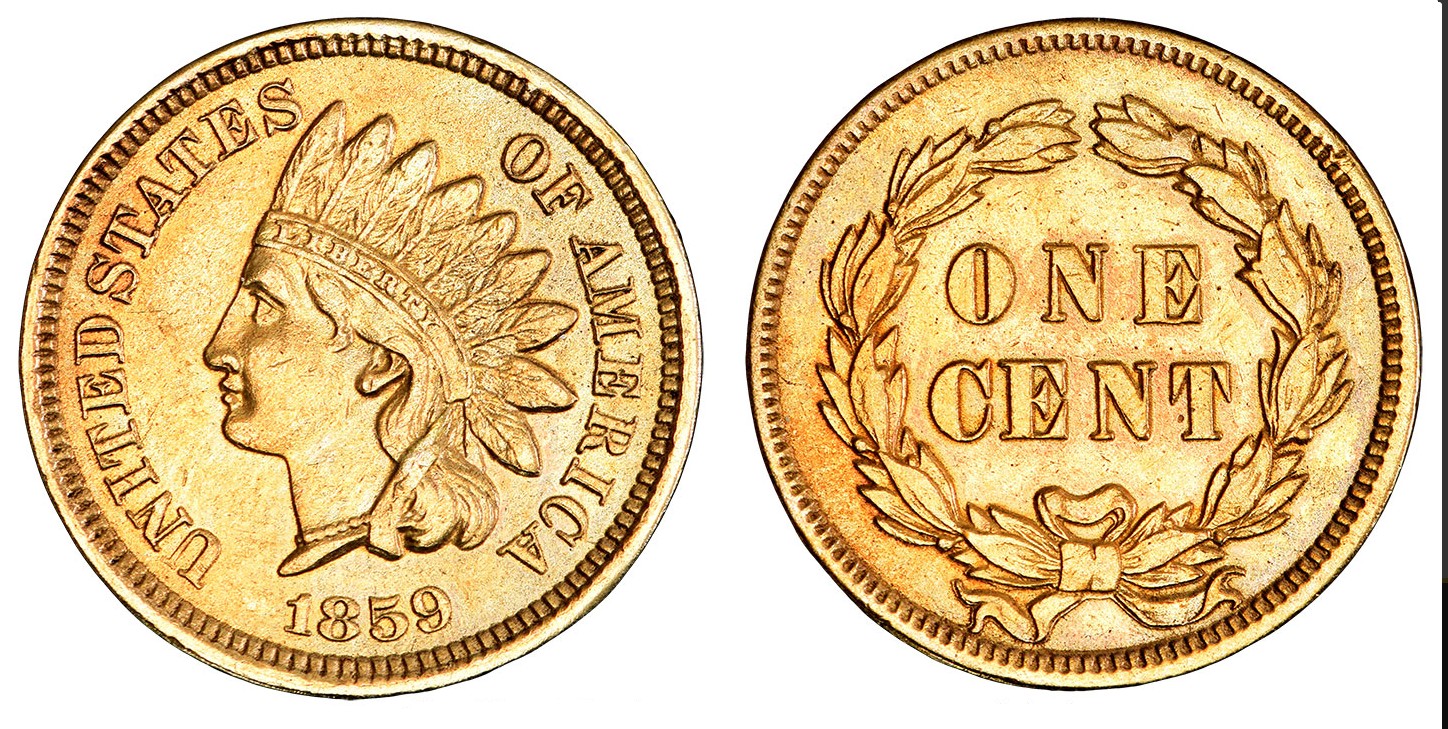 ▲ 1859 Indian Head Cent (1859-1909), copper nickel. ANA #1987.127.224
Charles E. Barber (1840-1917, Chief Engraver 1879-1917). His designs, including the Liberty Nickel, Barber dime, quarter and half dollar, and several commemoratives, are seen as rather pedestrian, though his 1915 Panama-Pacific half-dollar obverse shows some new tricks. His run-ins with outside artists – removing Brenner's initials from the Lincoln Cent, insisting on lower relief for Saint-Gaudens' gold coins, and modifying the fields on Fraser's Buffalo nickel – have made him numismatically infamous.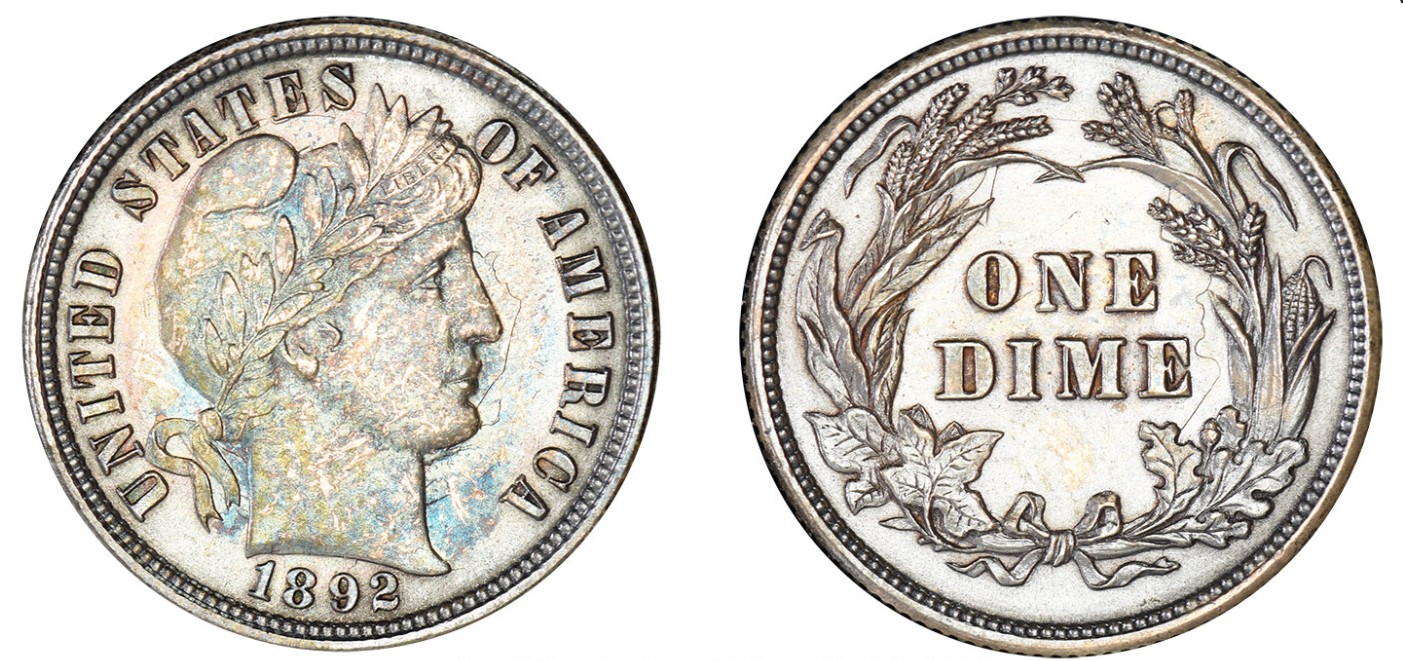 ▲ 1892 Barber/Liberty Head Dime (1892-1916). ANA #1973.21.1
George T. Morgan (1845-1925, Chief Engraver 1917-1925). Morgan worked at the mint for four decades before becoming Chief Engraver. Best known for his eponymous dollar coin of 1878-1921, coined and now collected in vast quantities, he also played a small role in the creation of the Peace Dollar (1921-1935), and designed many early commemoratives. Some of his unissued patterns are quite lovely, with the "Schoolgirl" and "Shield Earring" designs especially noteworthy.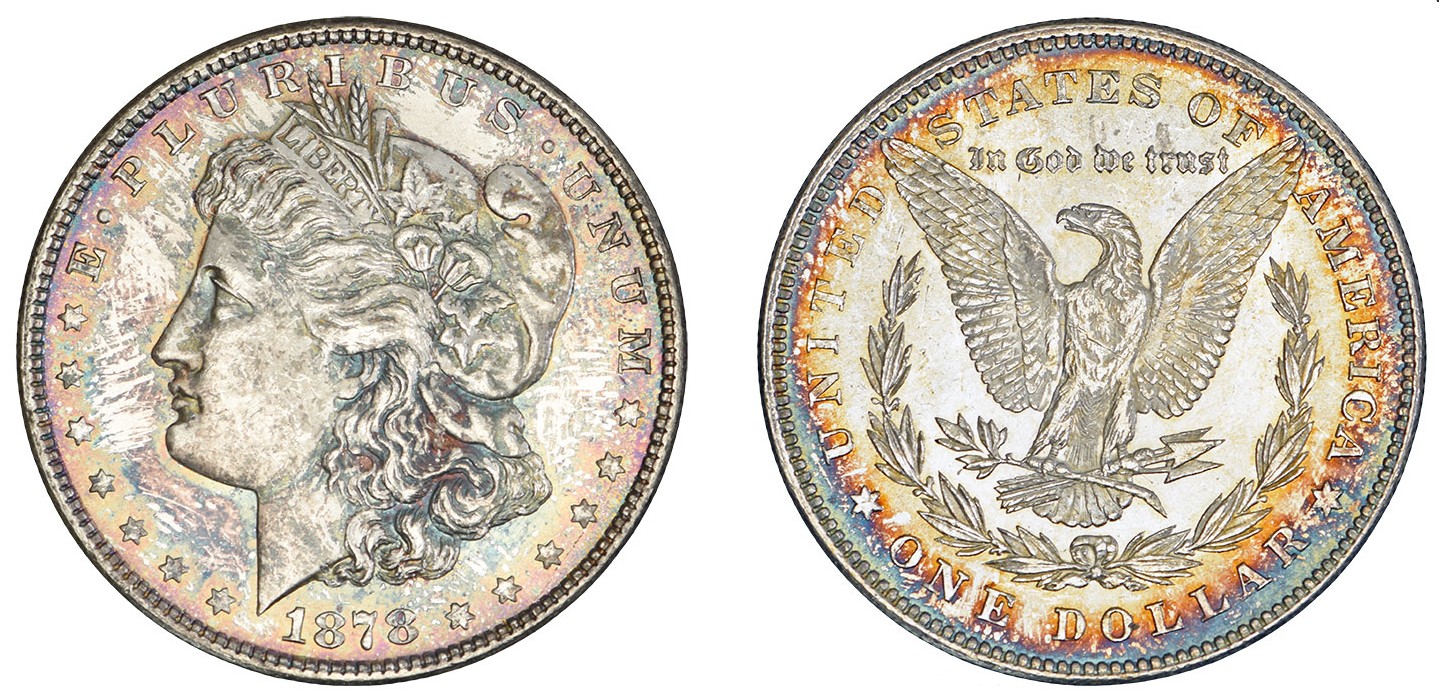 ▲ 1878 Morgan Dollar (1878-1904, 1921) silver. ANA #1999.49.1
Augustus Saint-Gaudens (1848-1907). In the early 20th century, with new equipment for reducing large plaster models to coin-sized dies, the United States Mint brought talented outside artists into the coin design process. Saint-Gaudens was the first. A prominent sculptor of monuments, he designed a striking $10 gold piece, and a $20 gold piece that is widely acclaimed as the high-water mark for numismatic design. His "family tree" of assistants and students influenced American coinage for decades.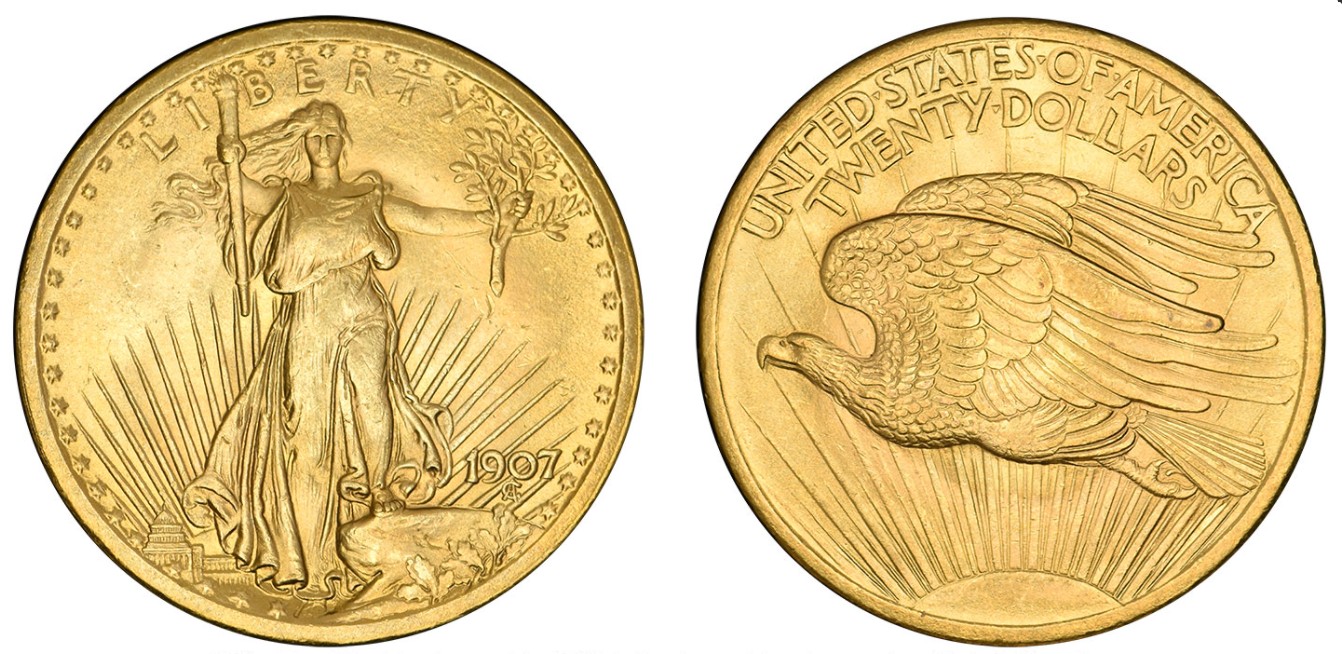 ▲ 1907 Double Eagle, gold. ANA #1981.193.5990
Gilroy Roberts (1905-1992, Chief Engraver 1948-1964). Roberts had a diverse resume – between stints at the Mint he engraved stamps for the Bureau of Engraving and Printing. His best-known creation is the obverse of the Kennedy half-dollar, adapted from his design for Kennedy's Presidential medal and created under extreme time pressure after JFK's assassination. In 1964 Roberts became Chief Engraver at the Franklin Mint, where he designed medals and coins for countries worldwide.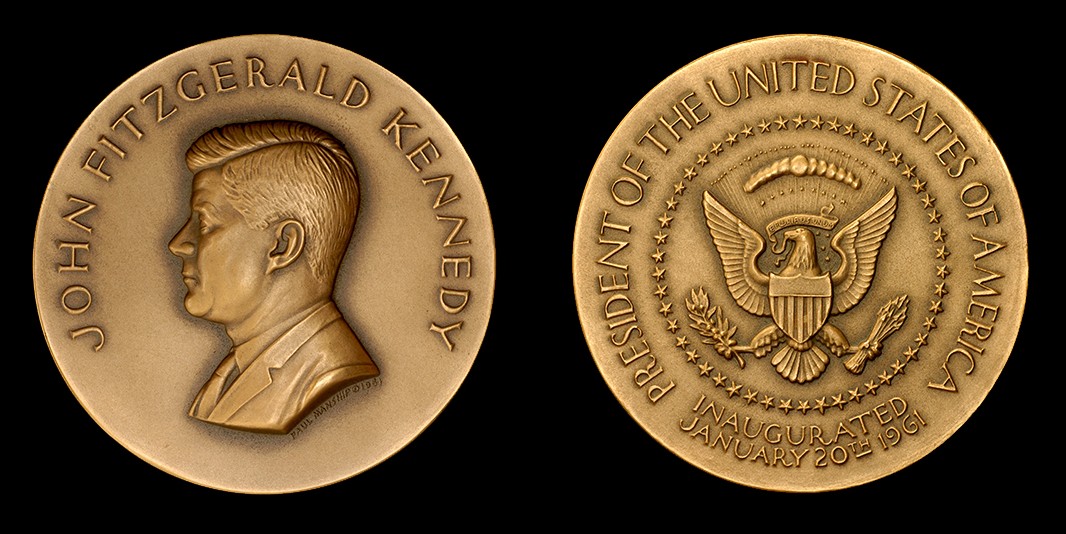 ▲ 1961 Official inaugural medal, John F. Kennedy, bronze. Image source ANA Money Museum.
Frank Gasparro (1909-2001, Chief Engraver 1965-1981). For two decades Gasparro was the primary source for new U.S. coin designs. He designed the reverses of the Lincoln Memorial cent (1959) and Kennedy half (1964), and both sides of the Eisenhower Dollar (1971) and Susan B. Anthony Dollar (1979). But his greatest design achievement unfortunately never made it past the pattern stage: a small-sized dollar, dated 1977, with an allegorical Liberty and a soaring eagle.
▲ 1971 Eisenhower Dollar (1971-78), copper-nickel. ANA #1986.79.30
Elizabeth Jones (1935-, Chief Engraver 1981-1990). Jones came to the United States Mint with a reputation as a talented medallic artist. She quickly made her mark after the revival of American commemorative coinage, with innovative designs including the 1982 George Washington half-dollar and the 1986 Statue of Liberty $5 coin. Her design for the Mint's Ronald Reagan Presidential medal, with a portrait she described as "slightly impressionist," is a high point of recent American numismatic design.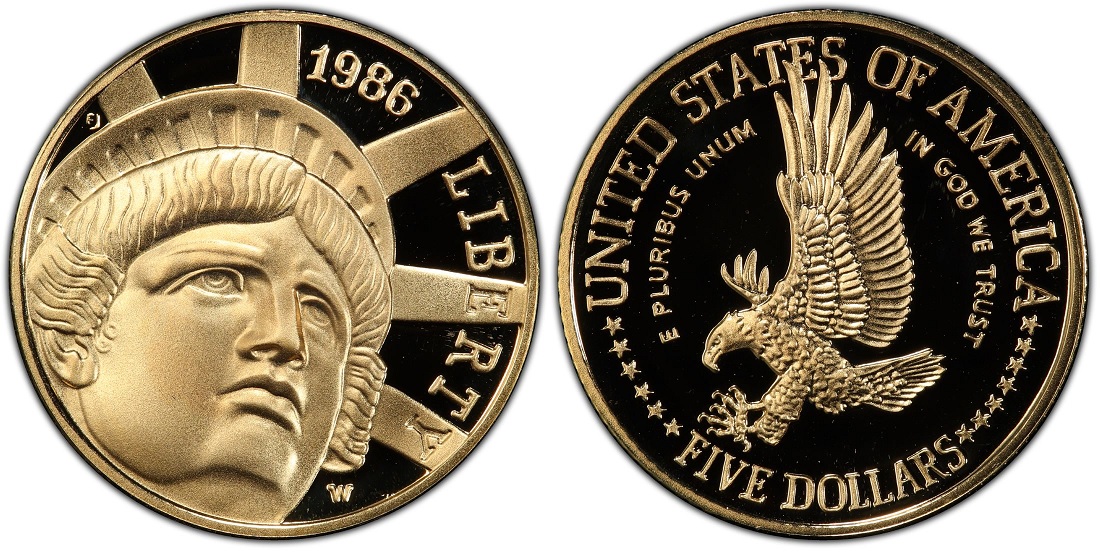 ▲ 1986-W Statue of Liberty Centennial, Five Dollar Gold . Image source Wikipedia Commons.
John Mercanti (1943-, Chief Engraver 2006-2011). Originally trained as an illustrator, Mercanti is the most prolific designer of coins and medals in United States Mint history. His most prominent design is the Type I reverse of the American Silver Eagle bullion coin, and he has also designed state quarters, commemorative coins, and numerous medals. His efforts brought the mint to the forefront of modern technology, with digital design tools and computerized die engraving.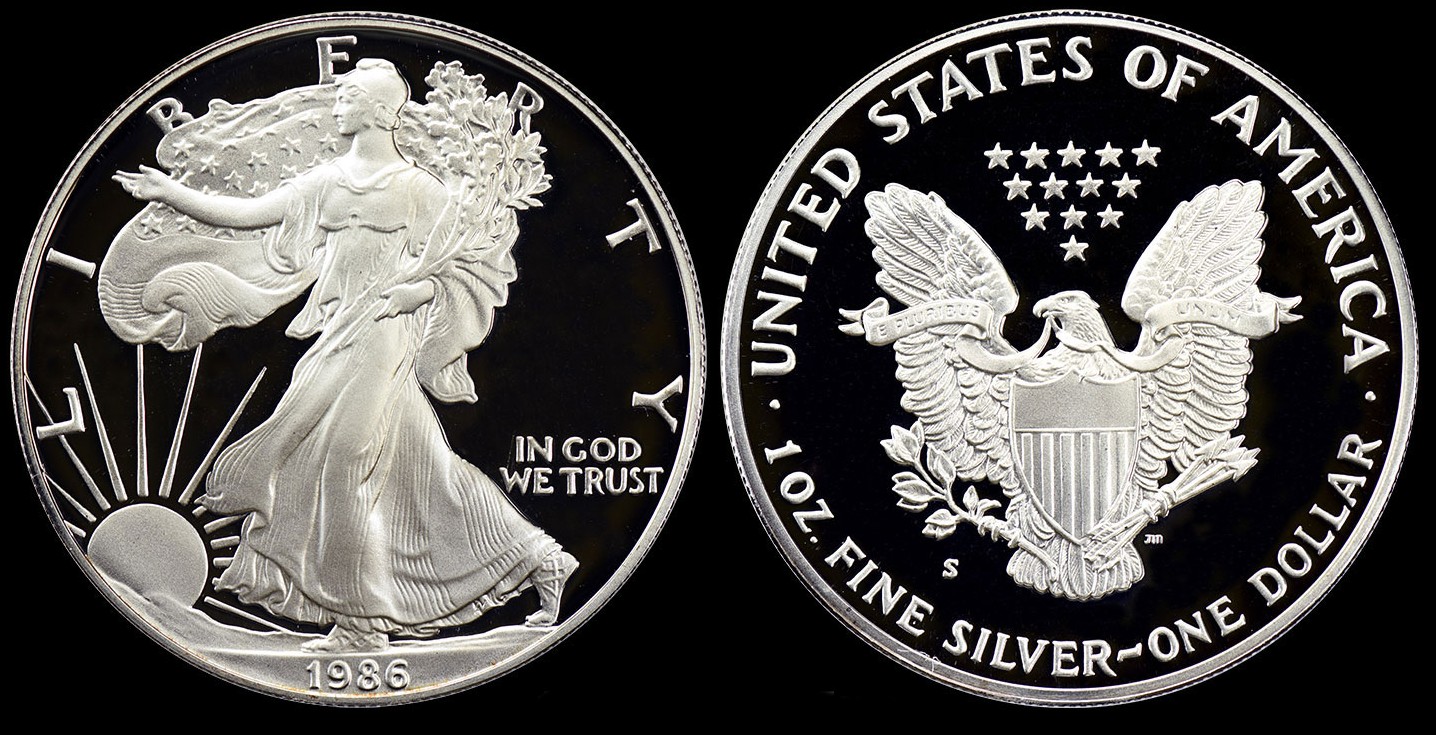 ▲ 1986-S American Silver Eagle. Image source ANA Money Museum.
The creative and practical designs envisioned by these artists, and mass-produced by the technological tools of their times, are our nation's numismatic legacy – past, present, and future. To further explore the fascinating history of U.S. coins visit the immersive ANA Money Museum Virtual Exhibit, The History of Money.
Mitch Sanders | Originally published August 2019
About the American Numismatic Association
The American Numismatic Association is a nonprofit organization dedicated to educating and encouraging people to study and collect coins and related items. The Association serves the academic community, collectors and the general public with an interest in numismatics.
The ANA helps all people discover and explore the world of money through its vast array of educational programs including its museum, library, publications, conventions and numismatic seminars.