Attending Your First Coin Show
The best way to become a successful numismatist, as well as familiarize yourself with the culture surrounding the hobby, is to attend coin shows on a regular basis. This also is one of the best ways to purchase coins, tokens, medals and paper money. Some people prefer the anonymity of the Internet, but the prices can be higher there. Overall, you can't beat the fun and camaraderie of being part of a hobby community.
Go to a local coin show first
Don't take your first dip in numismatic waters at a major or national coin show, where you are bound to feel overwhelmed. Many coin clubs around the country sponsor monthly coin shows.
Join a local club and begin attending meetings before you go to a show. The club will provide a good introduction to numismatics. Plus, when you do attend your first show, you will be reassured by an air of familiarity, since you will see club members there in the roles of dealers or customers.
Walk around to become familiar with the layout and the people. Take your time before stopping at a table.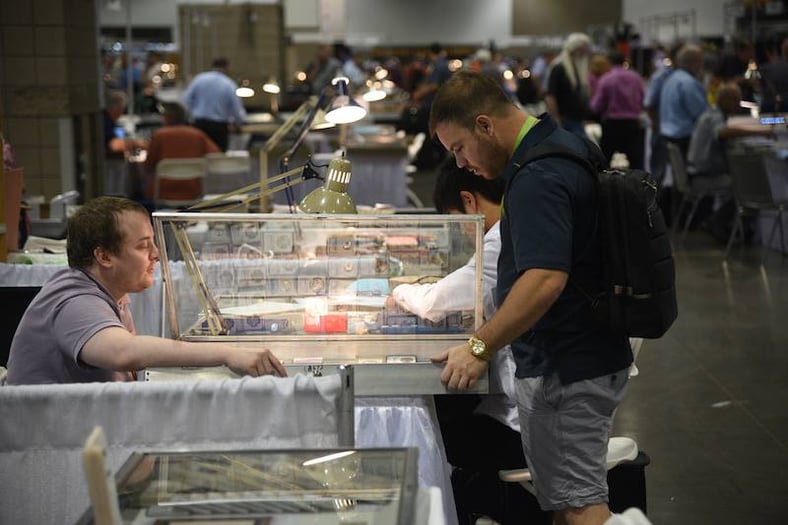 Talk to club members before and during the show
Ask fellow collectors to recommend dealers at the show, especially if you are new to the hobby and unsure about which specialties you should pursue. There are so many numismatic interests and fields—the possibilities are virtually endless.
"It's all about the relationships you build on the bourse floor."
Be friendly and polite
Make your experience at your first coin show a positive one by being friendly and respectful. When you are ready to look at specific coins, walk up to a dealer to shake hands and introduce yourself. Politely ask to view any coins in his or her display case. You want to make a good first impression, which includes eye contact and a kind word. Such courtesy is appreciated by everyone.
Don't be afraid to ask questions
Attending a coin show is an important part of your numismatic education, so don't hesitate to ask questions. "What do you sell?" "Do you have a specialty?" "Which of your items are most popular?" The majority of dealers are happy to answer such questions, because an inquisitive collector could very well become a paying customer. If you have an interest in a particular series or genre, ask what he or she knows about them.
Visit as many tables as possible
This is what a coin show is for: getting to know coins and the people who collect, buy, sell and trade them. It's all about the relationships you build on the bourse floor. ("Bourse" is a French word meaning "a place where numismatic items are offered for sale.")
"Your job is to ask questions — lots of questions."
Bring a loupe or magnifying glass with you
A numismatist's most important tool is a loupe or magnifying glass. Without one, you cannot closely examine a coin's surface and see all its details. Even if you are new to numismatics, you should spend time using a loupe and studying a wide variety of coins. This will help you advance as a numismatist.
Etiquette is important
The ANA offers the following tips for a positive bourse experience:
Don't interrupt a dealer and customer who are talking or in the middle of a transaction. Don't ask to see the coins in question or ask about their prices.

Do return to the dealer's table when he or she has concluded the transaction.

Don't block customers' access to a dealer's table.

Do spend some time learning before you buy.

Don't search a dealer's entire inventory for the best pieces, and then expect him to sell you coins at wholesale prices.

Do allow the dealer to make a reasonable profit.

Don't try to negotiate when a dealer's price is fair. Ask for a discount only if you truly believe a piece is overpriced.

Do ask permission to show a coin to another collector or dealer for a second opinion.

Don't buy a coin on the first day of the show, and then try to return it on the last day because you found something else.
Dealers usually bring their best specimens to coin shows, where they will get the greatest exposure. Not surprisingly, they worry about the safety of their inventory. Your job, in part, as a coin-show customer, is to make the dealer feel comfortable with you.
To that end, keep bags, briefcases, purses, backpacks and other containers away from the table. When standing and looking through a dealer's boxes or trays of coins, keep any bags on your back, over your shoulder, or on your arm. In this way, your hands are free to view coins.
When sitting down at a dealer's table, never put a bag or purse in your lap or on the floor between your legs. You don't want the dealer to suspect you of shoplifting. (The "peek and drop" method is among the most common ways dealers lose coins at shows.) Put yourself in the dealer's shoes and do not behave in a way that will draw suspicion.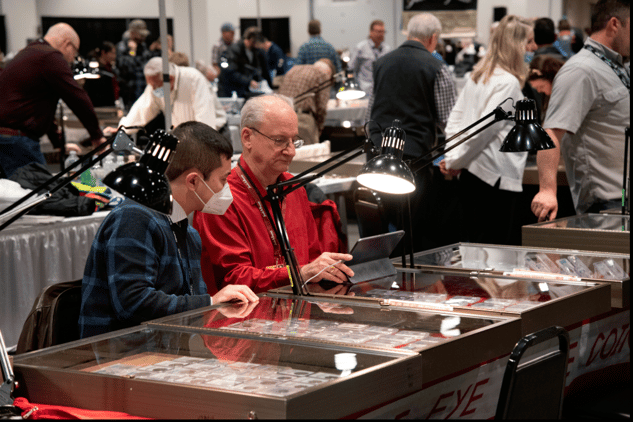 "Spend time learning before you buy."
Be tidy
As you examine a dealer's inventory, be aware of where you selected a specific coin so you can return it to the same box, book or tray. If you plan on buying, ask the dealer for a box in which to put your pieces, so you can keep them together for final review. Buy the items you want and give the rest to the dealer to return to their rightful places.
Put in the effort
If you wander around a show without talking to anyone, you won't learn anything. Your job is to ask questions—lots of questions. Don't be afraid to take notes. This is the way to gain knowledge, which will help you appreciate and understand the exciting and rewarding field of numismatics!
About the American Numismatic Association
The American Numismatic Association is a nonprofit organization dedicated to educating and encouraging people to study and collect coins and related items. The Association serves collectors, the general public, and academic communities with an interest in numismatics.
The ANA helps all people discover and explore the world of money through its vast array of educational programs including its museum, library, publications, conventions and numismatic seminars.
Become an ANA Member and Enjoy Fantastic Benefits
Learn about National Coin Week 2022