Whether selling a few pieces that you've since upgraded, or changing your focus to a new set and selling off an entire collection, most collectors eventually find themselves wanting to sell some of their coins. There are plenty of different options, but not all of them are a perfect fit for every collection. Some of the key points you'll want to consider are the value of the pieces you're selling, how quickly you need to receive payment, and how much time you're willing to invest in the selling process.
Here are some of the most commonly successful options, and the potential advantages and disadvantages that go along with them.
Local Dealers
Coin dealers have to get their inventory from somewhere, and one of those places is from their customers! Almost every coin dealer is well accustomed to purchasing coins brought into their shops. You can bring in one piece or an entire collection and your local dealer may well be interested in buying it. If not, they are usually more than happy to point you in the right direction.
Selling to a local dealer is one of the easiest options; it doesn't require any shipping, minimum values, or extra hassle. You get paid up front for everything, hand it over the counter, and you're done. This approach, however, may not always get you the best possible price for your coins. The dealer still has to make a profit when selling them to other customers, so don't expect to sell for a retail price. If you do opt to go with this option, it is of course prudent to perform your due diligence and seek out a reputable dealer, or work with a dealer with whom you have an established relationship.
[Search for coin dealers across the street and across the nation on the ANA Dealer Directory]
Coin Shows
If you bring your coins to a show, whether a small local event or a nationwide convention like the ANA's National Money Show® or World's Fair of Money®, you can shop your collection around to different dealers. Once you've gotten a few offers, you can return to whomever offered the most and sell them your coins. This will sometimes yield a higher price than selling directly to a local dealer, but it can be a hassle if you have to travel very far for the show you plan on attending.
[Explore upcoming shows near you on the ANA Events Directory]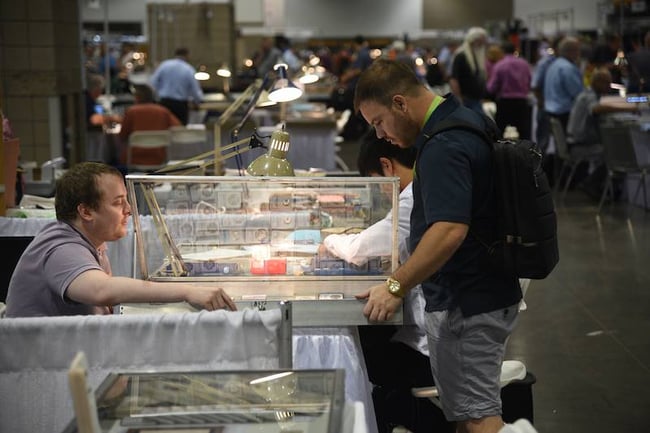 Auction Houses
If you have a very high-value piece or collection, consigning to one of the larger auction houses may be the best avenue. Once you get into five and six figures or more, some local dealers may not be able to buy them outright.
Auctions, of course, also open up the possibility of bidding wars between multiple interested buyers, which can sometimes result in a much higher price than expected. When dealing with an auction house, it's important that you remember to factor in buyer's fees. And keep in mind you will have to wait for your coins to be processed, auctioned, and for the auction house to send your payment.
You may wish to browse a few different auction houses before committing to one, and check the rules and requirements for each candidate. Many have a minimum consignment value, so you want to be sure your coins are eligible.
"Whether selling a few pieces that you've since upgraded, or changing your focus to a new set and selling off an entire collection, most collectors eventually find themselves wanting to sell some of their coins."

DIY Online Auctions
If you want retail prices for your coins, but aren't willing to wait for a large auction house – or don't have a very high-value collection – you can sell them yourself on online platforms like eBay or MA-Shops.
In this case, you will have to handle photographing, listing, and shipping all of the coins, as well as any potential issues from customers. But on the other hand, you won't have to share the profits with anyone (aside from potential listing or final value fees). If you have a lot of time to invest, this option gives sellers a good deal of control over how much you make on your coins.
In the end, the question that every potential seller should ask themselves—perhaps the question that matters the most—is whether he or she is ready to part with their collectible. While many may collect as an investment, there is no doubt that sentimental value can sometimes be incalculable. But, if you are ready to sell a piece from your collection (or the whole kit and caboodle) we hope that this post has given you an idea of the options available to you.
For information on consumer protection, visit the Consumer Awareness Resources page on the ANA website. To search for ANA Member-Dealers in your area, explore the ANA's Coin Dealer Directory and more at money.org.
About the American Numismatic Association
The American Numismatic Association is a nonprofit organization dedicated to educating and encouraging people to study and collect coins and related items. The Association serves collectors, the general public, and academic communities with an interest in numismatics.
The ANA helps all people discover and explore the world of money through its vast array of educational programs including its museum, library, publications, conventions and numismatic seminars.
Become an ANA Member and Enjoy Fantastic Benefits
Support the Future of the Hobby