There are plenty of collectibles out there to choose from, so why should you focus on coins?
History
Many of the categories that naturally occur to people when they think of collectibles are relatively new creations — sports cards and memorabilia, comic books, vintage action figures. Where coins are concerned, collectors acquire items that hold both tangible and deep historical value. After all, coinage originated around 600 BCE in the Kingdom of Lydia, now part of Turkey. In what other realm can one purchase an object from antiquity for a reasonable price?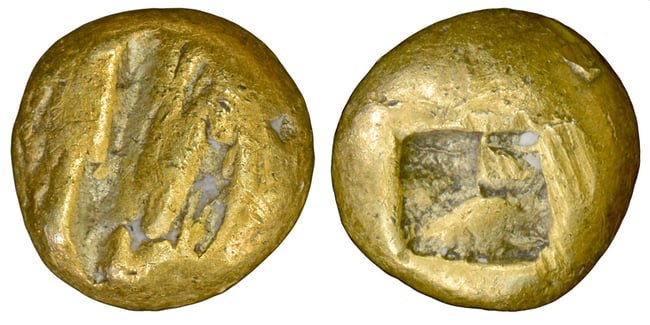 ▲Ionia, Uncertain Mint, 650-600 B.C. Electrum 1/12 Stater, Obverse: Striations, Reverse: Incuse Punchmark | ANA 1989.100.1
Whatever area of history interests you— from the Byzantine Empire, to the origins of the U.S., to WWI—there are collectible coins that reflect what was happening at the time. The rich history connected to numismatics also means that there's plenty to learn about each coin, series, and denomination. Even if you only purchase a new collectible every couple of months, you can fill plenty of time during the interim learning about the pieces you have, and adding the intrinsic value that accompanies that knowledge.
[View the ANA Money Museum History of Money Virtual Exhibit!]
Investment
Coins have been collected for centuries, and on average, prices have only gone up over time. If you pay a reasonable price at the beginning and hold on to your collections for a few decades, you're all but guaranteed to make a profit.
If you're hoping to invest with a shorter turnaround, you may want to seek the advice of someone who's been in the industry for a while to help you navigate your choices.
Whatever your motivation to collect, the potential profit is a desirable side effect of a fun hobby!
Accessibility
There is no minimum budget needed to collect coins. You can pull Jefferson nickels from circulation and build up most of a complete set without spending a cent over face value, or you can purchase six- and seven-figure coins to create a top-tier registry set of Morgan dollars. And of course, there are virtually endless possibilities in between!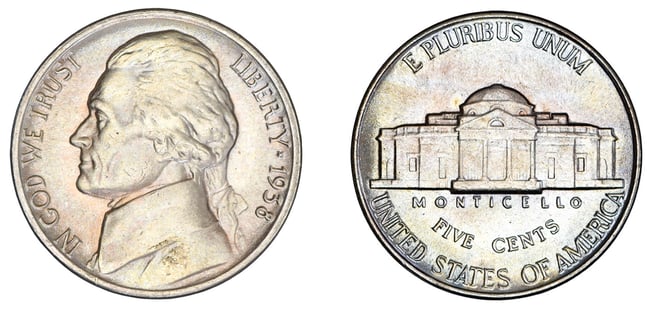 ▲ Jefferson Nickel, (1938-present), nickel, Obverse: Bust of Jefferson left; IN GOD WE TRUST * date, Reverse: Monticello at center; E PLURIBUS UNUM / UNITED STATES OF AMERICA / MONTICELLO / FIVE CENTS | ANA 1973.7.1

Community
There is a worldwide community of coin collectors out there, eager to make new friends and welcome beginning collectors into the fold. Most larger cities have local clubs you can join, and they frequently run local shows. These local shows offer excellent opportunities for meeting fellow hobbyists and provide a chance to interact with dealers from the surrounding area. Most coin shops are run primarily by the owner, or a very small staff, giving you the chance to develop personal relationships with your dealers.
If you frequent larger coin shows and conventions, dealers will quickly start to recognize you, and you'll likely have the chance to join specialized clubs that are dedicated to your individual collecting interests.
Finally, if you're comfortable with social media, there are large groups of collectors on both Facebook and Instagram that are eager to make new connections, offer advice, and share their own collections. However you prefer to communicate, there's a coin community out there for you.
Fun and Fulfillment
The examples above are just a few reasons why someone might choose to collect coins. Whether your motivations for collecting are sentimental, educational, financial, or an amalgam of "all of the above", one factor remains constant: for those with a true passion for the hobby, numismatics holds an almost infinite source of wonder, knowledge and joy regardless of your age, nationality, religion or socioeconomic background. In short, coin collecting is a pastime that is accessible, fulfilling and fun for all who embrace it.
Happy Collecting!
About the American Numismatic Association
The American Numismatic Association is a nonprofit organization dedicated to educating and encouraging people to study and collect coins and related items. The Association serves the academic community, collectors and the general public with an interest in numismatics.
The ANA helps all people discover and explore the world of money through its vast array of educational programs including its museum, library, publications, conventions and numismatic seminars.
Become an ANA Member and Enjoy Fantastic Benefits
Support the Future of the Hobby