Assembling a Type Set of Nickels
Building a type set is a terrific way to explore numismatics. A type set includes single representative examples of many different coin designs, organized around a unifying theme. Comprehensive in scope but compact in size, type sets allow you to cover a lot of numismatic ground with an economy of effort. To illustrate this method of collecting and to introduce an interesting American coin, here are some suggestions for assembling a type set of nickels.

The nickel originated in the economic chaos following the Civil War. Inflation and hoarding had caused gold and silver coins, including the silver half dime, to be replaced with paper currency. Small-denomination notes were especially inconvenient, so a copper-nickel 5-cent piece was introduced in 1866. The nickel is actually composed of 75-percent copper and only 25-percent nickel, but its nickname is justified because from 1890 to 1964 no other American coin contained nickel.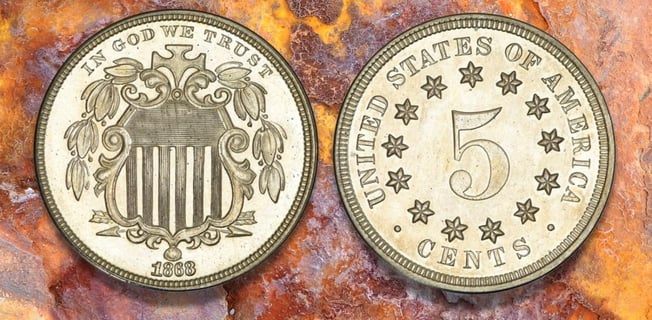 ▲ Shield Nickel (1866-1883), nickel, Obv: Union Shield with arrows and laurel; IN GOD WE TRUST / date; Rev: stars without rays; UNITED STATES OF AMERICA / 5 CENTS | ANA # 1978.4.4
The Shield nickel, coined from 1866 to 1883, features a shield on the obverse with the numeral "5" surrounded by stars on the reverse. Coins made in 1866 and part of 1867 have rays alongside the stars, but the rays were removed to improve the striking of the hard nickel alloy.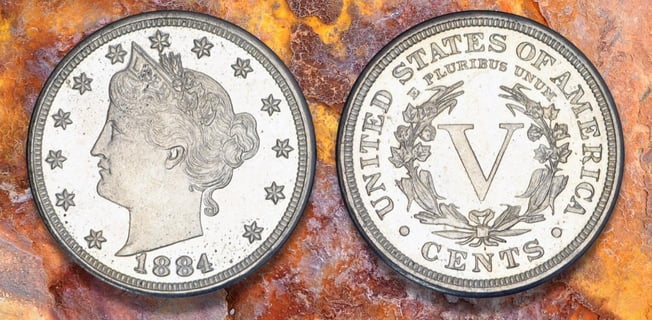 ▲ Liberty Head Nickel (1883-1913), nickel, Obv: Liberty wearing coronet with 13 stars around; LIBERTY (on coronet) / date; Rev: Laurel wreath; UNITED STATES OF AMERICA / E PLURIBUS UNUM / V / CENTS | ANA # 1978.4.24
An even more serious design problem plagued the first Liberty Head nickels in 1883. A Roman numeral "V" on the reverse indicated the coin's denomination, but the word CENTS was absent. The ambiguous denomination and the coin's similarity in size to the $5 gold piece meant that nickels could be gold-plated and presented as $5 coins. The problem of these so-called "Racketeer" nickels was swiftly corrected with the addition of the word CENTS for most of the 1883 mintage and continuing through 1912.
▲ Indian Head (Buffalo) Nickel, copper-nickel, 1913, designed by James Earle Fraser; Obv: Indian head facing right; LIBERTY / 1913; Rev: Buffalo left standing on raised mound; UNITED STATES OF AMERICA around, E / PLURIBUS / UNUM above Buffalo, FIVE CENTS in exergue | ANA # 1978.4.70
The Buffalo nickel debuted in 1913 as part of an early 20th-century movement toward more artistic coinage. A Native American appears on the obverse and a bison on the reverse. Designer James Earle Fraser described the themes as "purely American. " The words FIVE CENTS on a raised mound were prone to quick wear, so they were recessed on coins made from mid-1913 to 1938.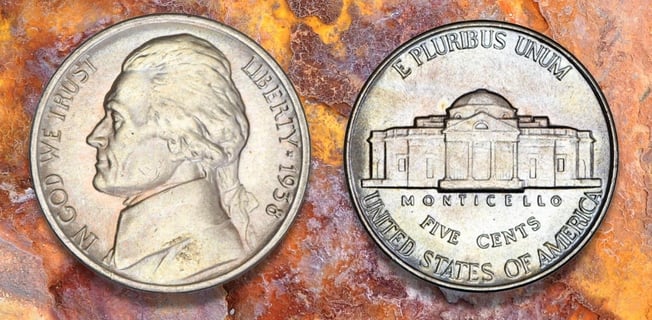 ▲ Jefferson Nickel, (1938-present), nickel; Obv: Bust of Jefferson left; IN GOD WE TRUST LIBERTY * date; Rev: Monticello at center; E PLURIBUS UNUM / UNITED STATES OF AMERICA / MONTICELLO / FIVE CENTS | ANA # 1973.7.1
Since 1938, the nickel has honored our third President, Thomas Jefferson. His Virginia home, Monticello, appears on the reverse. From 1942 to 1945, the traditional alloy was replaced with a blend of copper, manganese and silver to conserve nickel for the war effort. In 1966 the design was slightly modified with the addition of designer Felix Schlag's initials.
Thus, a basic nickel type collection includes representatives of each design — Shield, Liberty, Buffalo and Jefferson. An expanded set of nine coins accounts for changes within each series. Shield nickels with and without rays begin the set, followed by Liberty nickels with and without the word CENTS. There also are two Buffalo nickels, with raised and recessed FIVE CENTS. Finally, three Jefferson nickels complete the set: the original design, the wartime silver issue and the design with initials.

Whatever the scope of your collection, one major advantage of type collecting is that each is represented by only one coin. This allows you to choose coins that are affordable in the grades you are seeking. Uncirculated specimens will be nicest, but also the most expensive. For some types, well-preserved circulated coins, with some wear but a much lower price, may be a better value. It's a good idea to consult price and grading guides to find the pieces best suited to your interests and budget. However you proceed, collecting nickels by type is a great way to get a compact set of interesting and diverse coins.
Originally published in The Numismatist.
---
About the American Numismatic Association
The American Numismatic Association is a nonprofit organization dedicated to educating and encouraging people to study and collect coins and related items. The Association serves collectors, the general public, and academic communities with an interest in numismatics.
The ANA helps all people discover and explore the world of money through its vast array of educational programs including its museum, library, publications, conventions and numismatic seminars.
Learn more about the 2022 World's Fair of Money®
Support the ANA and the Hobby!